When it comes to getting the best park home and holiday home insurance, a visit to www.comparetheconfusedsupermarket.com.uk isn't always the best option. Park and holiday homes are not the same as traditional brick-built homes so a standard home policy may not cover you properly and, due to the benefits of our type of home, such us a generally lower risk of crime, you could actually end up paying more than you need to.

To find the best insurance for our needs, there are now an increasing number of specialist insurers who offer policies specifically aimed at park homes. They deliver tailor-made cover for the idiosyncratic risks that park homes face, and also account for the positive factors, such as the lower crime risk. Steve Rowe finds out more…
Our A to Z listing is designed to help you find the best specialist insurer, to give you the peace of mind that you are properly covered and potentially also save you money into the bargain.
With all the internet home insurance services now on offer, it might seem old fashioned to find a specialist broker for your park home or holiday home insurance, but as well as offering a more personal service, these companies can also be cheaper. Compared to traditional brick-built homes, park homes and holiday homes come with their own unique advantages, as well as some unique risks, where traditional home insurance may not be up to the job of offering the best cover. In addition, because park homes and holiday homes are classified as non-standard construction properties by most traditional house insurers, some of these companies won't even offer cover for park homes or holiday homes.
Specialist insurers will take into account both the advantages and disadvantages of park and holiday homes when creating a policy. Looking at one of the major advantages, park homes and holiday homes are usually located in secure communities, with very little crime. Specialist insurers are well aware of this and can offer cheaper cover as a result. Park homes, in particular, are often occupied by older people who are well used to looking after a home, with less chance of damage inside the home from misuse, especially by children. Other unique benefits also include the timber construction of park homes, meaning they can be relatively cheap to repair in the event of any minor damage that is covered by insurance.
On the riskier side, this timber construction can be more of an issue when it comes to fire damage, a factor which specialist insurers will also take into account.
Another risk can be the location of the site, particularly with holiday homes. That nice seaside or riverside spot might make for a perfect holiday, but there can sometimes be a greater risk of flooding and, again, specialist park and holiday home insurers are well aware of this and can offer advice as well as special cover. They have maps showing which locations are at more risk of flooding than others.
So, to sum up, a specialist insurer will be much more aware of both the problems and benefits when it comes to park or holiday home living. As a result they can offer you tailor-made cover so that you are properly insured. The other advantage is that specialist insurers are often much smaller operations than the large companies that insure traditional homes, so when you contact the company you are more likely to get a friendly welcome, as well as speaking to somebody who is a real expert rather than just an inexperienced call centre operative.
The expert view
To get a professional view of why using a specialist insurance broker can be the best option, we spoke to Paul Baker, who has worked in the industry for decades and now runs his own specialist insurance company called Paul Baker Insurance Services. He explained: 'The park home insurance market is relatively small, around 80,000 homes, which tends to restrict the appetite of many insurers and online insurance providers. Nevertheless, this is a very competitive marketplace, with specialist providers offering a good choice of policy cover and benefits, and in some cases an in-house claims handling service, too. The advantage of using a specialist intermediary is that they should be offering you a product which meets your needs, and they should also have a good knowledge of park homes, their construction, the ownership model, the law and the particular risks to which this type of home is exposed.'
What cover is best for my home?
There are a number of aspects to consider when insuring your park or holiday home and your specialist broker will be able to talk you through all the options of their own policies. For instance, do you want to pay for 'new-for-old' cover, where your home and/or its contents are replaced by brand new items in the event of total damage?
Also, you may need to decide if you want just the structure of the home covered, or all its contents as well. Then, you may also find that some policies give you the option to list any really expensive items, to make sure they are properly covered.
It's also worth looking at the financial fact on the insurance. How much is the 'sum insured' for instance, which should be high enough to cover the total rebuild or replacement of you home in the event of a total loss due to fire/flooding, etc.
Also, have a check to see if items such as sanitary ware are included in the policy. If you accidentally drop a hammer into the toilet bowl and smash it, then this cover will get you a replacement toilet fitted.
A specialist insurer will talk you through all the options on their policy and you should find that all eventualities that could befall a park or leisure home are already included in the policy, making for the sort of peace of mind that won't be there if you just go for non-specialist insurance on a comparison website. The other thing to mention is that specialist insurance can actually work out cheaper than 'cheap' insurance sold on the net, so you can save money as well as benefitting from greater peace of mind.
We hope our A to Z guide will help you to find the best insurer for your park home or holiday home. It's also a good idea to get more than one quote, so that you can compare both the level of cover offered and the cost, remembering that the cheapest policy may, or may not, be the best: you need to check exactly what is covered by each.
---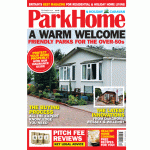 Read more in the November 2019 issue of Park Home & Holiday Caravan