Latest Issues – OCTOBER 2023
OCTOBER 2023 PARK HOME AND HOLIDAY LIVING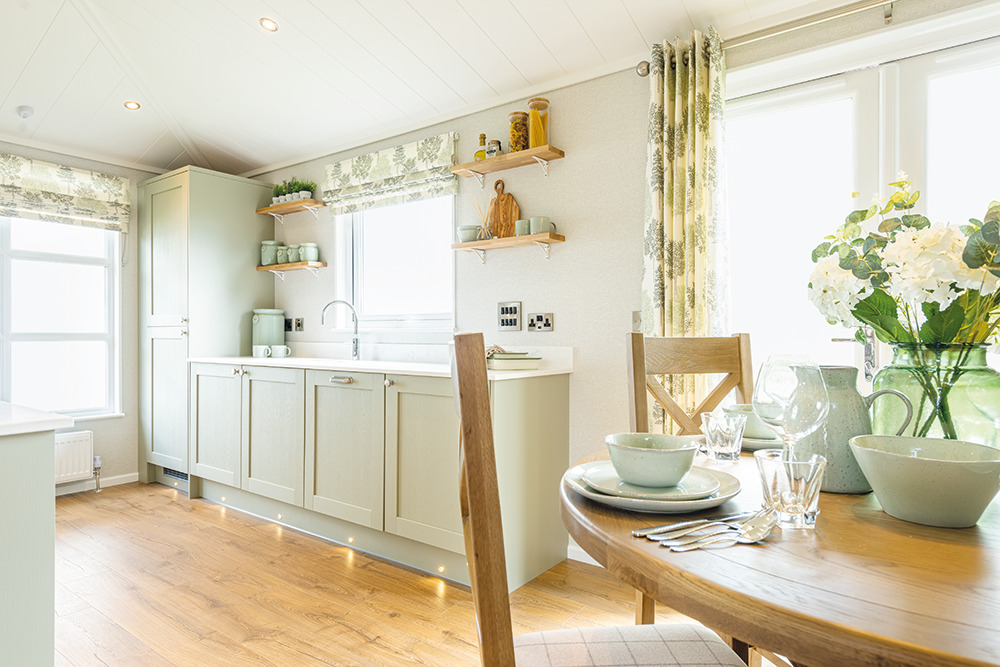 Noticeboard
Welcome
Editor Alex Melvin reveals what's inside October's treasure trove of an issue!
Buying a park home
Essential buying advice, legal help, plus specialist industry names to contact
Talking points
Andrew Jenkinson reflects on his recent appearance on Question Time
Parks
Let's move to Surrey
We find out more about the residential park choices in the county of Surrey
A beautiful park
Sue Hollingshead explores Rookery Drove Park, which can be found in an elite Suffolk location
Enjoying the quiet life
Sue Hollingshead finds out more about Rusty Well Park, an established site, located in the centre of Yeovil, within a beautiful setting
Countryside bliss
Steve Rowe drops by at a small, rural park in Hampshire, where a couple of empty plots are ready for the home of your choice
Setting the standard
We find out more about a luxury residential park located in a prime part of North Yorkshire…
A new way to get plastered!
After his wife Kim suffered an injury on a holiday in Spain, Peter Jones has a new-found respect for wheelchair users and their carers…
'Why we made the move'
Here's your chance to find out why others chose to change their lives and made their dream retirement move into a park home…
Life on the water
Sue Hollingshead couldn't wait to find out more about Waterfront Living and its 'floating homes', which are positioned in a superb location along the River Severn
Homes
Changing perceptions
Bella Brodie reports on the stunning Prestige Cottesbrooke – a home that's a real breath of fresh air in the residential marketplace…
La Belle Maison by Pathfinder
Bella Brodie takes a look at the latest version of a classic home from Pathfinder…
Willerby gets set for Harrogate
Bella Brodie finds out more about what visitors can expect from Willerby at September's Harrogate Show…
How refreshing!
Some of Pemberton's most popular models have benefited from exciting refreshes for the upcoming Harrogate Show. Bella Brodie reports
Beautifully unique!
We find out more about Retreat Homes – a company that manufactures some of the most stunning lodges in the UK
Make it a Victory
We learn more about Victory Leisure Homes' all-new 2024 range of luxury homes
Services
Legal help
Ibraheem Dulmeer explains more about the protections afforded by The Consumer Rights Act 2015 for those who buy from a site owner…
'It was quick and easy'
We hear from a couple who moved to the Cornish coast using property part exchange…
Top 10 insurance tips
Compass Insurance's top ten tips when insuring your holiday caravan, lodge or park home…
New hot tub collection
DekBoard has expanded its range with a new hot tub collection. We find out more…
Gateway Chassis and FEA testing
A look at the detail of FEA testing with Gateway Chassis Solutions…
The great(er) outdoors!
We find out how you can enhance your outside spaces with Liniar…
Depend on us!
We profile an established Midlands-based park home maintenance company…
Holiday
Your holiday section
An introduction to your holiday section
Buying a holiday home
All you need to know about the buying process
What to see at Harrogate
We bring you details of some of the celebrity guests visitors can see at the Harrogate Show, as well as information on some of the brand new homes on display…
Five-star luxury
The owners of a five-star, family run Welsh retreat have announced plans for new
holiday home development in glorious parkland…
Holiday Home Law
Find out why you should seek legal help with your holiday home purchase
Making the most of North Yorkshire
Thornton Lodge Country Retreats is a beautiful lodge park nestled in the Yorkshire countryside. We find out more…
A great place to relax
Richard Webber travels to Cornwall to enjoy a short break at Tregoad Holiday Park…
Wonderful location, great memories
Old Park Wood holds some special memories for PH&HL's Andrew Jenkinson…
Holiday news
Updates from around the industry on holiday parks, homes and much more
Lifestyle
Nature
Cookery
Home help
Products
Coffee time
News, views and advice
News
Puzzles/Personal finance
Your shout
Life begins at 50
—————————————
THE BUYER'S GUIDE 2023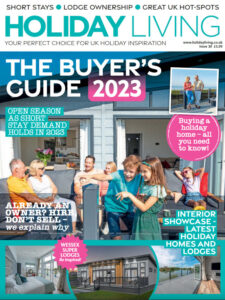 For those thinking of buying a holiday home or lodge in 2023, Holiday Living's Buyer's Guide is a must-read issue full of useful nuggets of solid advice from industry experts.
With demand for short stay holiday accommodation holding strong, it also takes a closer look at the rental proposition, showcasing several models perfect for short-stay guests.
If you're simply after a bit of short stay inspiration, there are several great parks featured where you can enjoy anything from glamping pods through to innovative luxury lodges with hot-tubs and panoramic views. That spring sunshine definitely makes us all feel like getting outdoors a little more at this time of year, and some of these have great activities you can try out for the first time!
Get your copy here!