Bella Brodie gets a first look at Willerby's exciting new model as it launches…
Willerby, the UK's largest manufacturer of holiday homes and lodges, has launched its latest innovation nationwide, The Vogue Classique, in multiple locations around the UK, including the Willerby showgrounds in Hull and Scotland.
Set to be a key attraction on its stand at Hull's Caravan and Holiday Home Expo, The Vogue Classique is based on an original holiday home from Willerby, designed with state-of-the-art features to suit its modern audience, while oozing sophistication and elegance throughout.
RICH HISTORY
Willerby's story began in 1946 and, ten years after its launch, founder Walter Allen created the very first Vogue product, which has remained an iconic part of its history. Kirsten Bolton, Willerby's marketing director, commented: 'The Vogue model has played a pivotal part in our history over the past 63 years, and holds a special place in the heart of the Willerby team. We've revitalised an old treasured favourite and given it a modern makeover. We're extremely proud of this truly luxurious model; it is a fantastic choice for couples who lead busy lives to enjoy a weekend getaway, surrounded by gorgeous features and interiors.'
The Vogue Classique is a premium model providing luxurious living space, a grand kitchen and a deluxe master bedroom suite, and is described as the largest holiday home currently available on the market (in its category – 43ft x 14, two bedroom).
ACCOMMODATION
Entrance is via a side door or French doors to the lounge, and there's an additional French door to the master bedroom with the option of a Juliet balcony and bi-fold door available. The living area incorporates the lounge, dining area and kitchen, and it uses the space incredibly well.
Off the internal hall there's a WC and shower room, and on the other side is a twin bedroom. The master suite has a walk-in wardrobe, large dressing area, and en suite with a shower over the bath.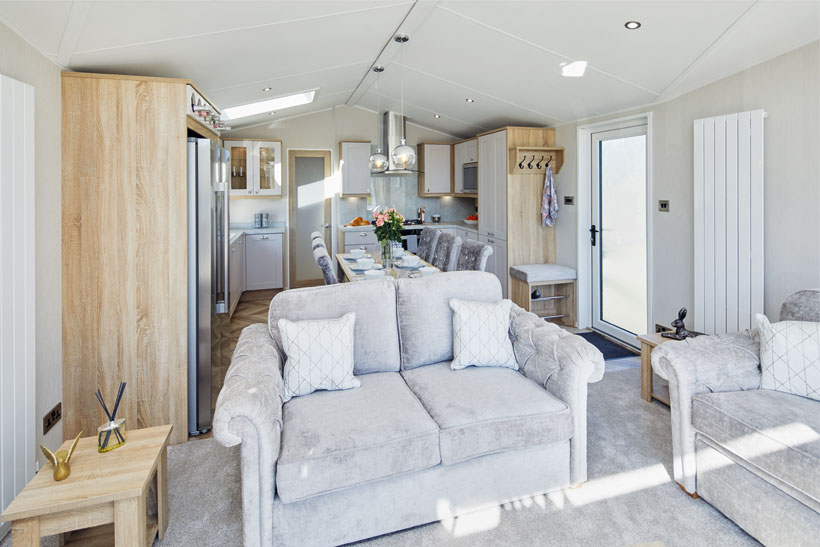 INTERNAL APPOINTMENT
Home owners can feel the comfort and luxury the moment they arrive, with features such as an American-style fridge/freezer, wine cooler, a six-seater dining table and walk-in wardrobe, making life easier and more comfortable.
Options such as a retractable awning, air conditioning and a beautiful balcony in the master bedroom make this bespoke home really exciting.
Because this home is so replete with 'wow factor' fixtures and fittings, you may not notice thoughtful extra touches like the premium carpets, luxurious soft furnishings, brushed stainless steel sockets and spotlights throughout, straight away. But these features make a real difference. It's safe to say that this is very well appointed!
LIVING AREA
As you walk into the Vogue Classique you instantly get a feeling of space, combined with comfort and luxury. There's ample seating in the living area and those sofas are special from both a practical and aesthetic perspective. The two-seater has a reclining mechanism and integrated USB outlet – what a great idea! – and the other sofa has a pull-out bed for guests, taking the sleeping capacity up to six, hence the dining capacity.
Of course, the layout lends itself to a great view, and the raised front really does make this model feel much larger than it is on a modest footprint.
The feature fireplace with inset electric fire will keep things cosy on a cooler day, boosted by the full-height feature radiators.
---
Checklist
● Striking Apex glazed front elevation.
● Optional awning to front eave.
● Optional Juliet balcony to
master bedroom.
● Six-seater dining table with upholstered chairs.
● Extensive range of integrated appliances in kitchen.
● Integrated wine rack, five-burner hob, composite sink with mixer.
● Plush master bedroom with dressing area, walk-in wardrobe, en suite shower over.
● King-size bed in master with lift-
up storage.
● Optional air conditioning and app- enabled thermostat.
● Bluetooth speaker system.
● Feature vertical radiators.
● Choice of residential or European specification as standard.
● Velux windows in kitchen and master bedroom, with blackout blinds
● Fully galvanised chassis.
Info point
To find out more about the model, visit www.willerby.com or see it at The Caravan and Holiday Home Expo (read our preview on page 56). You can also view it at a variety of locations around the UK, including Willerby's two showgrounds in Hull and Scotland.
The Hull Showground is located at: Great Field Lane, Marfleet Lane, Hull, East Yorks, HU9 5WA.
The Scottish Showground is located at: Williamson's Garden Centre, Beechwood Nurseries, Uphall, Livingston, West Lothian, EH52 6PA.
---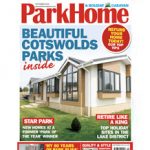 Read the full story in the September 2019 issue of Park Home & Holiday Caravan