Bella Brodie is wowed by Tingdene's breathtaking new model, the Quantum – a 'superlodge' that owes as much to physics as it does to jaw-dropping design
Tingdene Homes is one of the leading names in the park and leisure home industry, with decades of experience and a well-established base in Wellingborough, Northamptonshire.
To celebrate its 50th anniversary this year, the company has launched several new models which have all been pretty exciting, but none more so than their latest big-hitter launched at the World of Park and Leisure Homes Show at Stoneleigh – The Quantum.
FEW LIMITATIONS
This is a lodge defined by the way it's used, and on that there are as few limitations as possible. Upstairs it's a multi-levelled terrace, expanding the lodge's living space considerably as nearly every inch of it is available for leisure.
There are raised areas for a hot tub and barbeque should you wish to add them, and you can choose from an artificial grass-surfaced area or decking effect. This is a lodge perfect for entertaining. With a little music it's a natural, atmospheric draw for a social event, and you can't hear a thing downstairs thanks to the soundproofing!
What's more, with no less than four sets of French door entrances on one side of the lodge leading outside the Quantum lends itself to a large sundeck on the lower floor too, with different zones for different times of day if needed.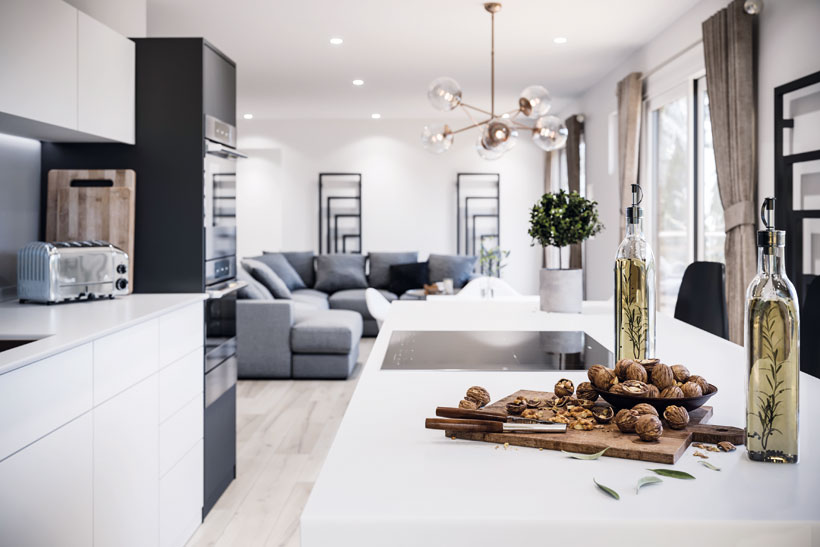 TAKING A TOUR
The lodge as seen here occupies a 52ft x 22 footprint, although it feels like more. From the main entrance there's a lobby leading to the stairwell on one side, and a WC/cloakroom on the other. Images here show both a darker colour scheme and a lighter interior, depending on your taste.
Then you're into a large centre lounge with dining area and contemporary kitchen to one side, all kitted out to a high specification and finish – a kitchen island housing four bar-stools providing a great pre-dinner chill-out space. Above it a beautiful copper drop-light re-enforces the high-quality feel in this knockout model. Back in the lounge feature designer radiators look very striking, and the large L-shaped suite faces an entertainment zone and suspended feature shelving.
There are two bedrooms, one at each end of the lodge, both with plenty of impact from a design perspective but nicely practical too. The twin –bedded room has feature shelving and room for a large TV, and a geometric feature wall.
---
Checklist
Key Features
● Ten-year structural warranty – a Tingdene standard.
● Accoya timber cladding with 50- year warranty.
● Colour-fast low maintenance render with ten-year warranty – no repainting required for ten years.
● Combi boiler with industry-leading five-year warranty.
● Unique feature windows.
● Designer kitchen and entertaining area with contemporary, high quality built-in appliances.
● Superior hard floor surfaces.
● Noise reduction layer to ceilings.
● Internal stairway with automated glass opening to access the roof terrace.
● Built to residential standard BS3632 or UK Building Regulations (depending on spec).
Info point
To find out more about the stunning Quantum contact Tingdene Homes.
Tingdene Homes is at: 45-49 Bradfield Road, Wellingborough,
Northamptonshire NN8 4HB
T: 01933 230 130
E: sales@tingdene.co.uk
W: www.tingdene.co.uk
---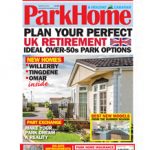 Read the full story in the August 2019 issue of Park Home & Holiday Caravan