Bella Brodie runs the rule over the Palazzo from Kingston, a model that provides a new and contemporary direction for the company

Hull-based Kingston Park and Leisure Homes recently revealed its brand new model, The Palazzo, at the Stoneleigh World of Park & Leisure Homes Show.
Adopting a modern approach, the Kingston team took on board feedback gained at April's Ardingly Show and have created a stunning new contemporary luxury lodge.
DESIGN PHILOSOPHY
The idea for The Palazzo was hatched after conversations the Kingston team had at the Ardingly event. Taking on feedback from those looking for something more modern, the team started scouring the internet and design magazines for ideas.
'We took inspiration from all sorts of places: warehouse conversions, trendy bars and coffee houses and leading-edge architecture projects,' said Kris Robinson, commercial director at Kingston Park and Leisure Homes.
'We wanted to use contemporary features and finishes to really bring something that's completely different to our current range.
'We want to show customers that we have the ability to create the full spectrum of lodges, from traditional log cabins to cutting-edge lodges like The Palazzo.'
Kris continued: 'Like every Kingston lodge, The Palazzo is built by skilled craftsman in our factory in Hull. Customers also get our unrivalled levels of service and our unique late delivery cash back, giving you peace of mind on your investment with us. Every lodge purchase for a park owner or retail customer is a personal journey. We do our upmost to make it as enjoyable and as exciting as it should be.'
EXTERNAL FEATURES
One of the most striking features of The Palazzo is the external cladding by Therrawood. The first model to use this in the UK, the interlocking panels give the exterior of the lodge a very modern look, while at the same time not being too 'out there', so it wouldn't look out of place on any park in UK. The clean lines and variety of colours mean The Palazzo is the perfect choice for those parks and retail customers looking for something bold and unique.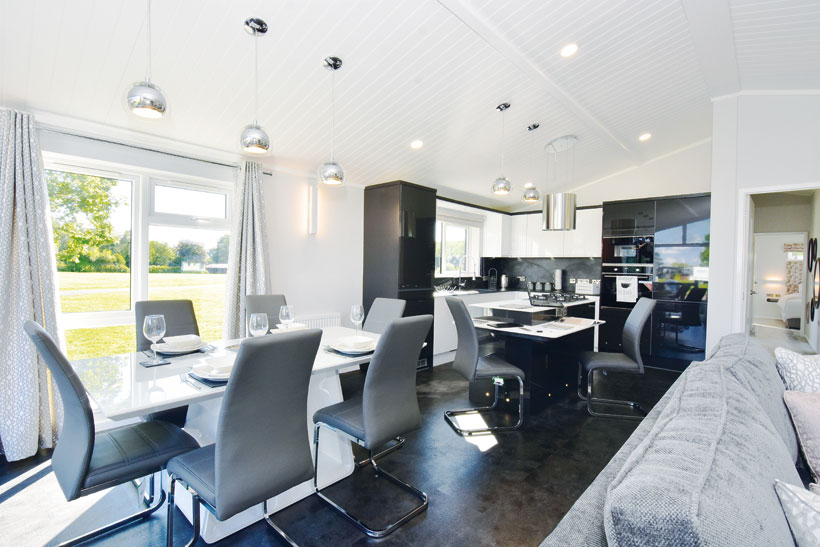 KITCHEN
Whether it's a traditional layout or a modern lodge like this, the kitchen is at the heart of almost all park and leisure homes and The Palazzo is no exception. With sleek grey and black finishes throughout, and all the latest modern appliances you'd expect including a five-burner white glass hob, split-level cooking, fridge freezer and a dishwasher, this kitchen really fits the contemporary brief.
The dining area has a large table with room for at least six, flanked overhead by a series of three stunning feature lights that really give the space a contemporary and luxurious feel.
There's also a utility room with hanging and drying space making The Palazzo both a stylish and practical lodge.
As you'd expect from Kingston, the kitchen and dining area really does have a premium feel. We could see ourselves enjoying many a meal with friends and family in these fantastic surroundings!
LIVING AREA
The living area is part of the same large open plan space of the kitchen and continues the contemporary chic feel of the kitchen and dining area. Some very stylish custom-built furniture pieces and the palette of cool greys and blush colours really give this area a premium feel.
There's plenty of seating with stylish six-seater and two-seater sofas alongside a chair. At the heart of the living area is a stunning entertainment centre with a huge tv and plenty of space for games consoles, TV boxes and any other electrical gizmo you can imagine. In this day and age, customers demand entertainment choices and, in The Palazzo, they certainly won't be lacking multimedia options!
---
Info point
Kingston Park & Leisure Homes
is at: Stockholm Road,
Sutton Fields Industrial Estate,
Kingston-upon-Hull HU7 0XW
T: 01482 835 835
E: sales@kingstonplh.com
W: www.kingstonplh.com
---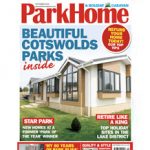 Read the full story in the September 2019 issue of Park Home & Holiday Caravan