Bella Brodie reports on a key lodge refresh from Omar, and it's a gem!
The Alderney has been a key lodge in the Omar range since its original launch in 2018, offering a great level of luxury and space at a competitive price. It has now been given an exciting new look for 2021 and is better than ever, so this is a refresh that should excite a few buyers!
EXTERNAL FEATURES
Externally the Alderney is an eye-catching model that is clearly recognisable out on parks, with a striking spilt roofline and feature glazing and an inset section to the angled front elevation. With CanExel, Ced'R-Vue, cladding, large picture windows and French doors to the lounge, this lodge really stands out in the style stakes!
INTERNAL STYLING
Omar's interior designs have taken quite a new direction, while also retaining a good continuation from previous models, and this is the perfect demonstration of how. This feels very bright, modern and contemporary, and the skill of the designer is apparent in both scrutiny of the layouts and that interior styling. In fact, this is a model which is even better in reality than on paper, as the different textures and surfaces will then add texture. We love how crisp it looks, and think the combination of navy, creams and whites with occasional sandy coloured soft furnishings works brilliantly.
This would be an uplifting lodge to walk into in any location, but in a coastal location, it would particularly hit the spot.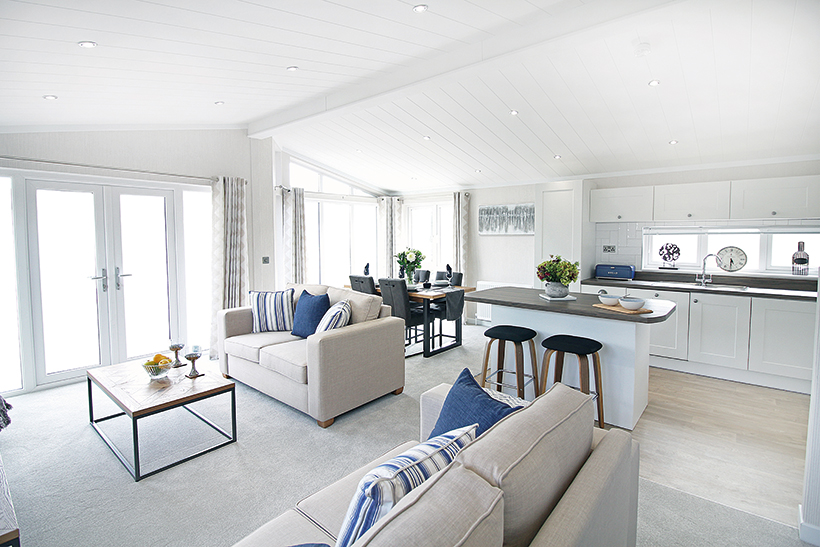 ACCOMMODATION AND LAYOUT
The model shown here is a 40ft x 20 version, although several sizes are available – some including a utility room and study or the option of either. The three-bedroom versions just move the en suite aspect to the centre of the lodge, rather than the end, to make way for another bedroom. Other than that, there isn't a lot of difference between the two.
The minimum size is 36ft x 20 and the maximum size is 65ft x 22, so there's plenty of scope to adapt the Alderney to your needs and budget.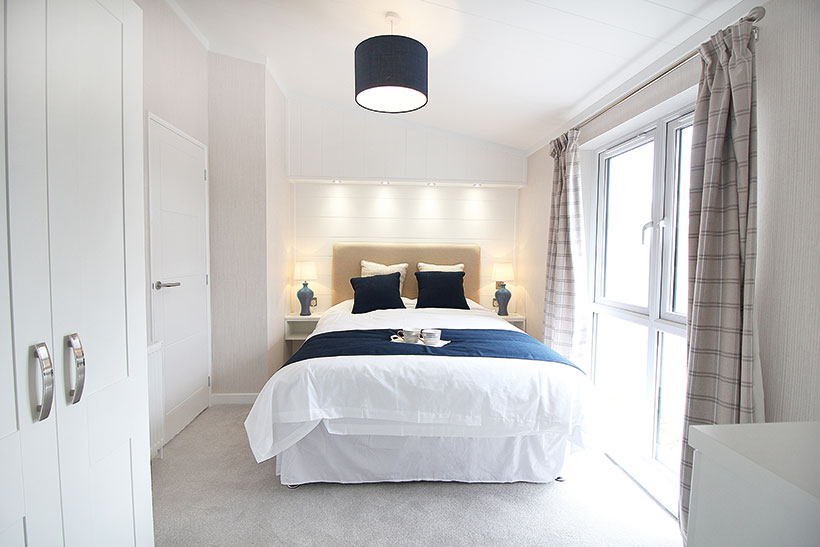 LIVING AREA
As you enter the Alderney there's a useful full-height storage and cloaks cupboard to the right, complete with coat hooks and perfect for the hoover, ironing board and any other practicalities you need to consider.
It'll be hard to take notice of that though as you'll be blinded by the light in the living space, in a good way of course, and busy absorbing the design vibe.
Clean, contemporary lines in the furnishings along with the white panelled vaulted ceiling and large picture windows help deliver that spacious and light feel. In the lounge, there are two three-seater sofas and a stylish mosaic coffee table, so this lends itself well to relaxing at any time of day.
The visual focal point for this space would be the media plinth and TV once added, and it's all quite stylishly laid out. Although I would usually grumble at the lack of a fire, I don't think you'd miss it here, and you could probably add one if you wanted to anyway. I would rarely say this, but on this occasion, the space works perfectly well without it, and I probably wouldn't bother.
There are French doors out to a potential decking area, with additional strip windows on either side, so we are starting to see how that sense of light has been achieved.
CHECKLIST
Key Features
● Split-level roofline and striking front façade.
● Light, bright and striking interior design.
● Good level of luxury and storage.
● Utility room and study in  selected models.
● En suite shower room to master bedroom.
● Clever use of lighting throughout.
---
INFO POINT
Omar Park & Leisure Homes is at:
Pleszko House, London Road,
Brandon, Suffolk IP27 ONE
T: 01842 810 673
E: sales@omar.co.uk
W: www.omar.co.uk
---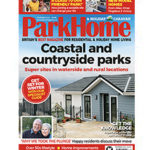 Read the full report in the November 2021 issue of Park Home & Holiday Caravan