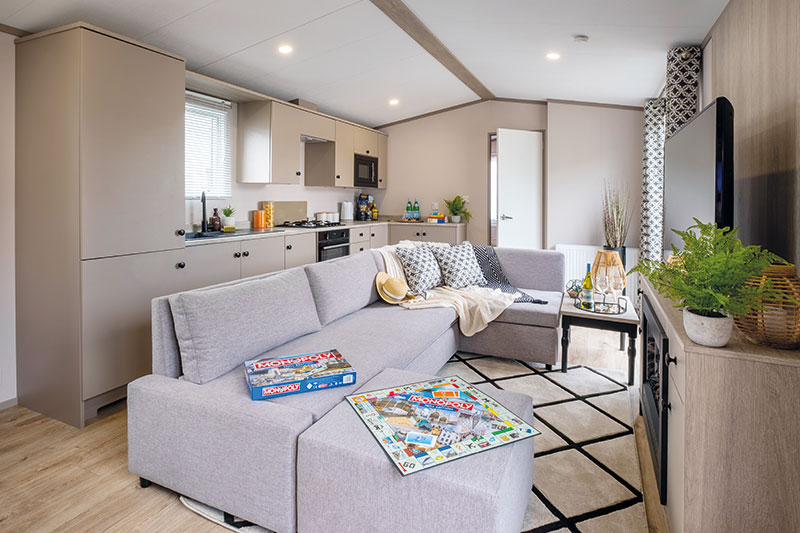 One of Victory's most popular centre-lounge holiday homes has been revamped.
Bella Brodie finds out more…
Founded in 2009, Victory Leisure Homes is one of the biggest caravan manufacturers in the Yorkshire region, supplying a steady stream of holiday homes and lodges to parks all over the UK and Ireland. This is a company in a brand new phase of operations, with a bold vision for the future of holiday homes in the UK, and the determination to deliver it.
Victory has already completely revamped its Leisure Home range in the first six months of 2021, while also adding three brand new models to the range in the form of the Parkview, Faraday and Franklin twin lodges. For now, we take a look at one of its most popular centre-lounge holiday homes, the newly-refreshed Beckwood.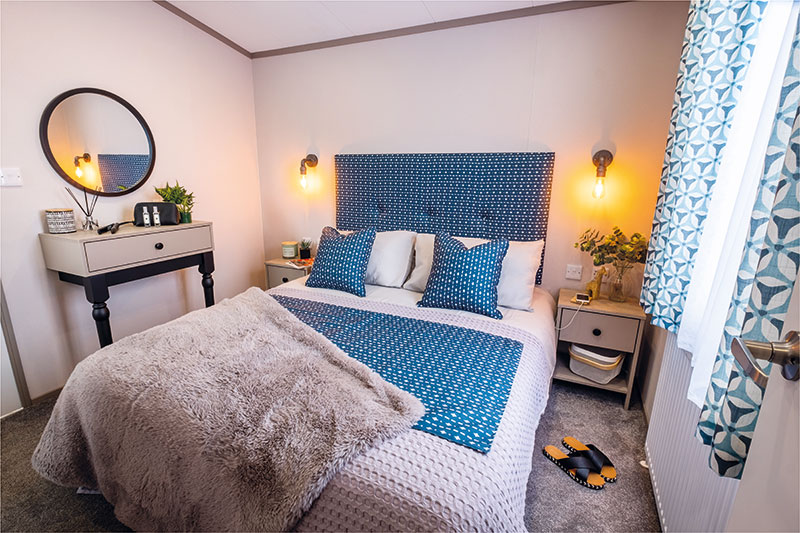 ACCOMMODATION AND LAYOUT
Available as a 39ft x 12 two- or three- bedroom holiday home, the Beckwood has bedrooms at either end of the living space, with a shower room at each end too.
The three bedroom version turns and moves the shower room into the living space a little more but, as this area is so spacious, it still works perfectly.
That means there's plenty of capacity for occupants, and it doesn't impact the layout of the master, which stays almost the same in both versions with a walk-in wardrobe and en suite shower room.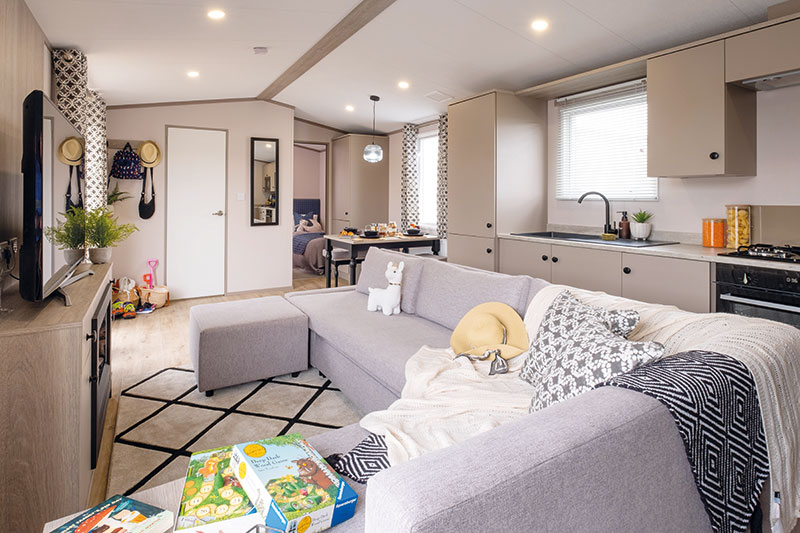 INTERIOR DESIGN
The interior design is simple yet full of appeal and turns traditional holiday home styling on its head – this feels different, and a bit like a chic holiday apartment.
The finish is heightened by Victory's Novus technology which includes beadless internal walls to create that slick finish.
This crisp design feel is very much in keeping with Victory's new direction, which is why we were keen to review it so quickly!
CHECKLIST
Key Features
● Cinema-style lounge with feature fire.
● Master bedroom with en suite shower room.
● Centre lounge layout with double patio doors.
● Optional French door upgrade.
● Stylish black trim throughout.
---
INFO POINT
For more information about Victory Leisure Homes, please contact:
T: 01430 471 200
E: sales@victoryleisurehomes.co.uk
W: www.victoryleisurehomes.co.uk
---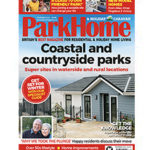 Read the full report in the November 2021 issue of Park Home & Holiday Caravan