Bella Brodie reports on Omar's exciting new residential model…
A brand new model from Omar, the Vision park home has been on the horizon for some time, and has now been released at last. Despite the wait, it's been well worth it as this is a model with a couple of great surprises built in – so much so that we had to look back at the plans to check we didn't actually have image sets for two homes rather than one!
The reason we say that is that there's so much packed into the Vision – Omar has obviously gone back to the drawing board on this one to create something really fresh and different, focusing on the way home owners might want to use their homes.
It's a sociable model, built with several seating zones to sit and relax in, and that will undoubtedly make it feel much bigger than it is, and the perfect home to entertain family and friends in if you want to. For a couple retiring together, it's also a great option if you're not used to being together all day, every day, as you can both comfortably enjoy your own space at any point in the day.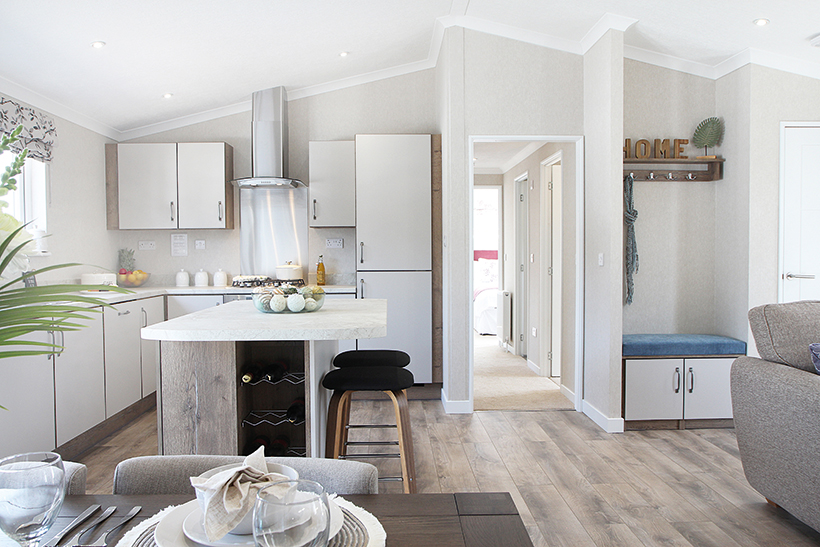 LAYOUT AND ACCOMMODATION
There are several sizes already specified as two bedroom models: 40ft x 20, 42ft x 20, 45ft x 20 and a larger 50ft x 20 model, which adds a study. The main entrance is into a dining/living area with three main zones rather than the usual two – the kitchen, dining and a lounge-style seating area. There's a separate lounge spanning the width of the Vision, which again is long enough to feel like it's almost split into two areas. The master bedroom has a walk-through dressing area into a large en suite shower room, while the second bedroom is still a large double. There's a separate bathroom and, of course, a study if you choose the 50ft x 20 model.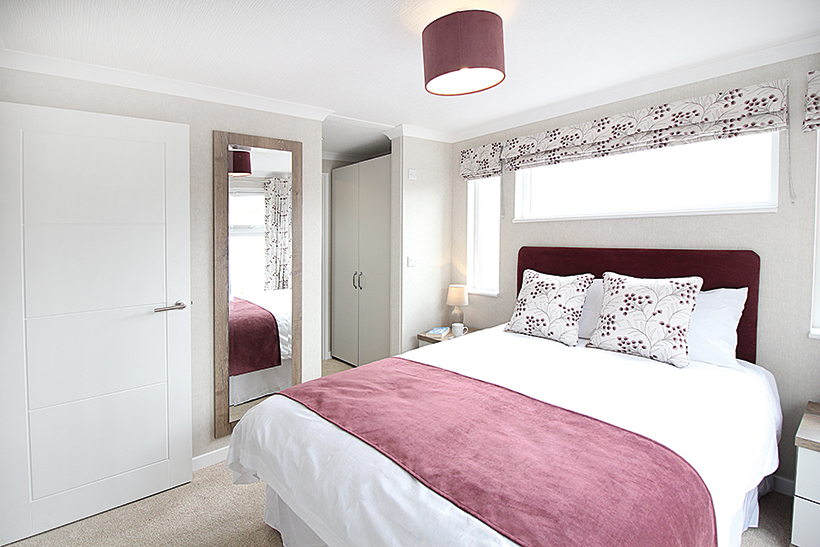 EXTERNAL APPOINTMENT

The Vision is not just a bit of a tardis inside, due to those multi-use spaces, but it's also rather good-looking on the outside, with large, elongated picture windows and a combination of Almond Stucco and Timberwoolf CanExel cladding making it feel very current. Other colour combinations are available of course. The side entrance with dormer has quite a grand feel so we think this is a model that will play to many tastes. If you like the Omar Ikon exterior, this will undoubtedly also appeal as it's not dissimilar.
CHECKLIST
Key Features
● Multifunctional living area.
● Separate large lounge.
● Study in selected models.
● Kitchen island and dining snug.
● Two double bedrooms.
● Master with en suite shower room and walk-through wardrobe.
---
INFO POINT
Omar Park & Leisure Homes is at:
Pleszko House, London Road, Brandon, Suffolk IP27 ONE
T: 01842 810 673
E: sales@omar.co.uk
W: www.omar.co.uk
---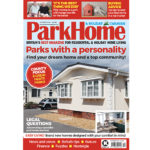 Read the full report in the October 2021 issue of Park Home & Holiday Caravan