Bella Brodie reports on a family friendly home with a multitude of possibilities…
Willerby is one of the UK's leading manufacturers of holiday homes, lodges and park homes. Established in 1946 in Hull, it is widely recognised as a brand that cares about its customers and takes time to keep in touch with them, well after they have bought their holiday homes.
Its Willerby Owners' Club pays testament to its listening ear, and this emphasis on customer satisfaction is backed up through its warranty schemes and aftercare services.
So, what better than to take a look at one of its core holiday homes in the form of the Linwood, a model available in several different sizes that will work through the ages for families as they grow? If you're after a 'forever' holiday home that will stand the test of time, then the Linwood should fit the bill.
The latest colour palette is fresh and uplifting in summery yellows and blues, and that makes it a particularly great choice for a coastal park, although it would be easy to add additional accent colours if you need to.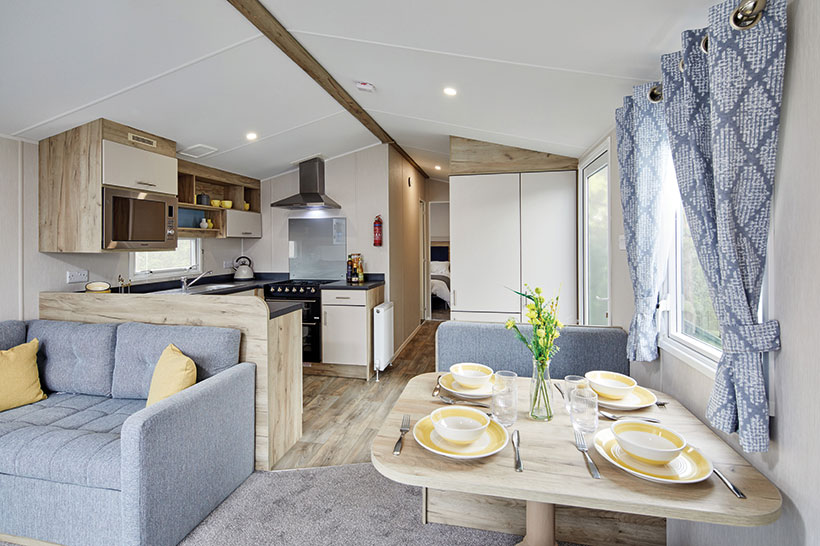 EXTERNAL APPOINTMENT
The front of the Linwood is particularly pretty, clad as standard in sandstone aluminium, with energy-efficient white uPVC double-glazed windows and doors.
The option to add double sliding patio doors or French doors will potentially make the most of your pitch space and decking, and the fully-glazed front aspect makes it particularly light and bright.
ACCOMMODATION AND LAYOUT
Layouts for the Linwood range are from a 28ft x 12 two-bedroom model, sleeping six, through to a 38ft x 12 four-bedroom version, sleeping ten, with plenty of options in between.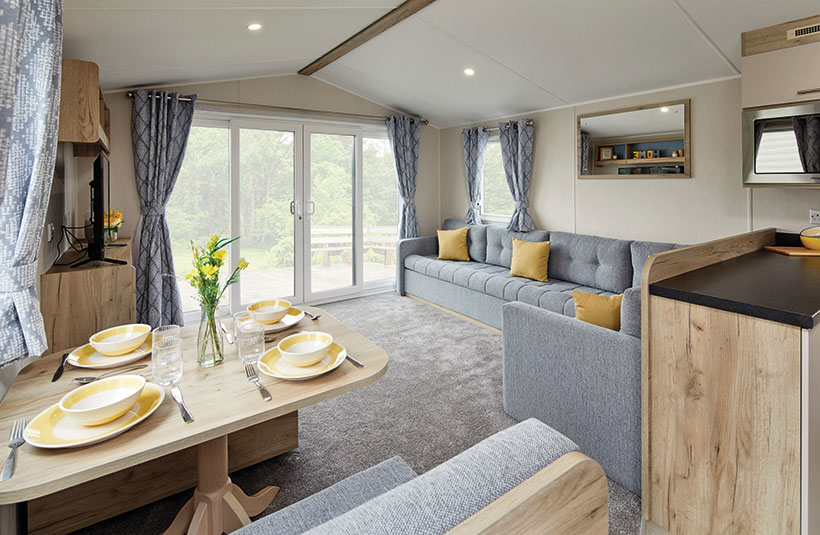 LOUNGE
The Linwood was clearly designed with family in mind as one of the main features of the lounge space is the seating, which is bench-style in an L-shape, with a fold-out sofa bed and scatter cushions. In the four-bedroom model, the seating curves round further in a full U-shape. The fixed furnishings and units are in a rustic wood-effect finish, build for a combination of storage and display capability. Opposite the seating area, which has a mirror above bouncing light into the room, there's a good visual focal point in the form of the electric fire with TV area above, and there's good detail in the pretty blue backboards to these storage zones.
Optional extras here are an integrated Bluetooth MP3 sound system, coffee table and the choice of doors to the front, from single sliding patio door, double, or French doors to the lounge. The only version that latter option isn't available in is the four-bedroom model due to the layout configuration and additional bedroom.
---
CHECKLIST
● Extensive seating and accommodation options.
● Abundant storage.
● Timeless styling.
● Dressing area and en suite WC to the master bedroom.
● Pull-out bed to lounge.
● Chic front façade.
INFO POINT
To explore Willerby's range of holiday homes you can book a showground visit in Hull, Scotland or Southport or go to www.willerby.com
---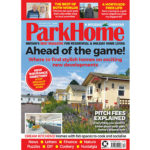 Read the full story in the December 2021 issue of Park Home & Holiday Caravan