Overhauling your park home's roof can help to protect it and increase its longevity. We examine a recent job, carried out by experienced refurbishment company, Carl Bowles Park and Holiday Home Services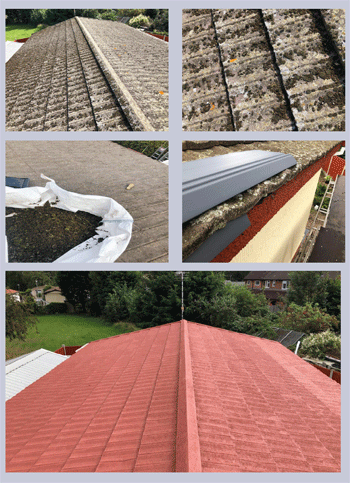 A park home roof is an area of the home that gets most of the abuse that the elements can throw at it. Being a shallow pitch at 15 degrees, water flows slowly from the surface; add to this a granulated surface, and a combination of moss, algae dirt and leaves will eventually build-up – especially under the barge trims (which can lead to water penetration). With all this in mind, it's worth considering a complete roof over-haul by an experienced contractor you can trust.
EXPERIENCED OPERATOR
Mr and Mrs Hurt, of Alvaston Mobile Home Park, Derby, decided it was time to have a roof over-haul. Not wanting to take chances, the couple employed one of the most experienced park home people in the business, Carl Bowles Park and Holiday Home Services (CBPHHS).
As seen in our photographs, the roof was covered in moss, so CBPHHS's first job was to spend two days scraping and sweeping the tiles down. The barge boards were removed so all debris was cleared from underneath.
The next stage was lifting all the bottom row of tiles up and fitting eaves-cloaking trays where the underfelt had crumbled from exposure to UV rays.
All underlay will decompose over time so eaves-cloaking is something that will only have to be done once!
TAKING SHAPE
The next phase involved removing the old gable bargeboards and replacing them with uPVC. Also fitted were new uPVC facias. At this stage Carl uses trestles and staging boards along the whole length of the home. As Carl wisely remarks: 'The better the access, the better the job!'
The new guttering is always fitted to a chalk-line to ensure correct fall and positioning.
Next up is the roof-coat by trusted industry coating and cladding specialist, Resitex. This is offered in in a range of colours and is applied by brush roller or spray, depending on conditions.
Not only does roof coating look great, it also seals all fixings as well, ready to face the elements with a tough new coating.
If you feel that it's time to give your roof a new lease of life, just send Carl an email, or phone him and you will receive everything you need in the post. There's no need for a visit and no hard sell at all.
---
If your park or holiday home is in need of repair or refurbishment, contact Carl Bowles Park and Holiday Home Services.
10 Rhosfa Road, Upper Brynamman, Ammanford,Carmarthenshire SA18 1DE
T: 01269 824313
M: 07785 272933
E: carlbowlesphhs@gmail.com
W: www.carlbowlesphhs.co.uk