Bella Brodie steps inside a practical, spacious and inviting offering from luxury park home and lodge heavyweight, Omar
If you're after a contemporary and light lodge with distinctive design features that provides holiday practicality with a luxurious feel, the Alderney will fit the bill perfectly! It offers extensive accommodation for its keen price point and any guest would feel valued staying in it, so it's as great for ownership as it is as a potential fleet option.
In fact, when we heard about the price point, we were expecting something quite different, not a lodge with such a luxurious feel as the Alderney. It has quite an engaging interior design theme; simple enough to appeal to all, yet with plenty of depth and interest. This is a model with pulling power!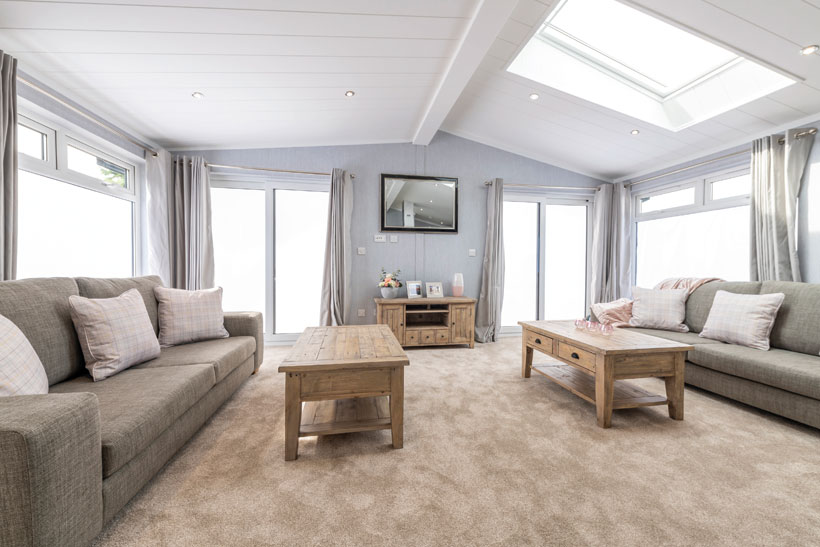 ACCOMODATION AND LAYOUTS
Accommodation within includes a large spacious living area with lounge, kitchen and dining areas – there's a light and bright conservatory feel here due to the large picture windows and patio doors.
The model shown here is a 45ft x 20, with three bedrooms; a master bedroom with en-suite, a second twin bedroom and a third single bedroom / study. A family shower room completes the arrangement.
Other sizes available include two or three bedroomed 50ft x 20s, a two bedroomed 45ft x 20 with en suite and utility room, and a 40ft x 20 with two double bedrooms. The master has an en suite in all sizes.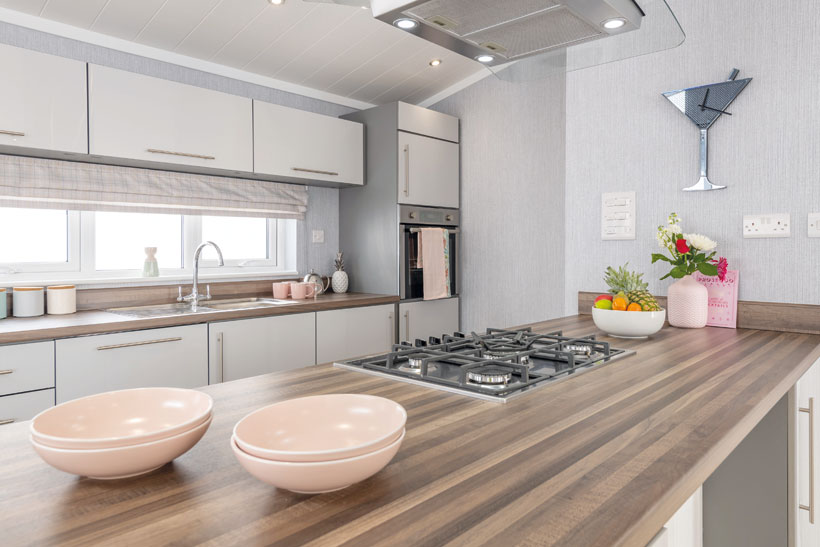 EXTERNAL APPEARANCE
With a distinctive spilt roofline, Metrotile roof profile, Sand CanExel, Ced'R-Vue, 9in lap cladding, large picture windows and patio doors, this lodge really stands out in the design stakes and looks luxurious from the outset. The 2020 version has a deeper roof overhang to the front, and that's not only practical but it also adds a distinct element which will help it stand out on parks even further.
LOUNGE
The living area in soft natural tones with white panelled ceilings is designed to make the most of natural light throughout the day. Vaulted ceilings are panelled in white with inset lighting keeping things clean and modern. To the lounge area there are two sets of patio doors and two large picture windows. Although this is a lodge which would feel luxurious to stay in, it also has quite a homely feel, and if bought for ownership it could very easily be given the lodge owner's own feel simply by dropping their own ornaments and pictures in. It is the perfect canvas for anyone's getaway, personalised or not.
Key Features
● Split-pitched tiled roof
● Two sets of patio doors, full height picture windows and skylight to lounge
● Extensive range of integrated appliances to kitchen
● Illuminated mirrors and shaver points in bathrooms, full height mirrors to bedrooms
● Two double bedrooms, and further flexible bedroom/study
● Large combi-shower to en-suite and shower over main bath
---
Omar Park & Leisure Homes is at:
Pleszko House, London Road, Brandon, Suffolk IP27 0NE
T: 01842 810 673
E: info@omar.co.uk
W: www.omar.co.uk
---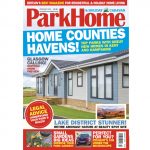 Read the full story and find more new homes in the February 2020 issue of Park Home & Holiday Caravan