Bella Brodie reports on the new Cranborne – a show-stopping residential home from the Wessex stable…
The Wessex Cranborne has always been a popular park home, and after a bit of an extended wait thanks to the pandemic, a brand new version was launched at the Caravan, Camping and Motorhome Show at the NEC Birmingham this February. And it was well worth the wait – quite frankly, it is a stunning home!
The challenge in updating the Cranborne was clear – it was already lovely, with character and personality of its own that had been well received previously, so any new version had to build on that, while retaining the same feel and ramping it up a notch in the design stakes. But Wessex has done it, making a cracking job of it to boot.
External specification
Externally, the 2022 Cranborne is very different to the original, and much prettier. The entrance is into a side apex and overhang, with two more on each side of the door over windows on a stucco background. The door is in a clad section with full-height glass on either side and the windows are framed by multi-colour slate feature tiling. Further feature tiling runs up to the apex of the roof at the end, making this a very characterful and eye-catching model and one that would be easily identifiable in an instant. The symmetry is absolutely exquisite, giving it completely fresh appeal, so much so that we had to stand outside and admire it for a few moments, such is the impact.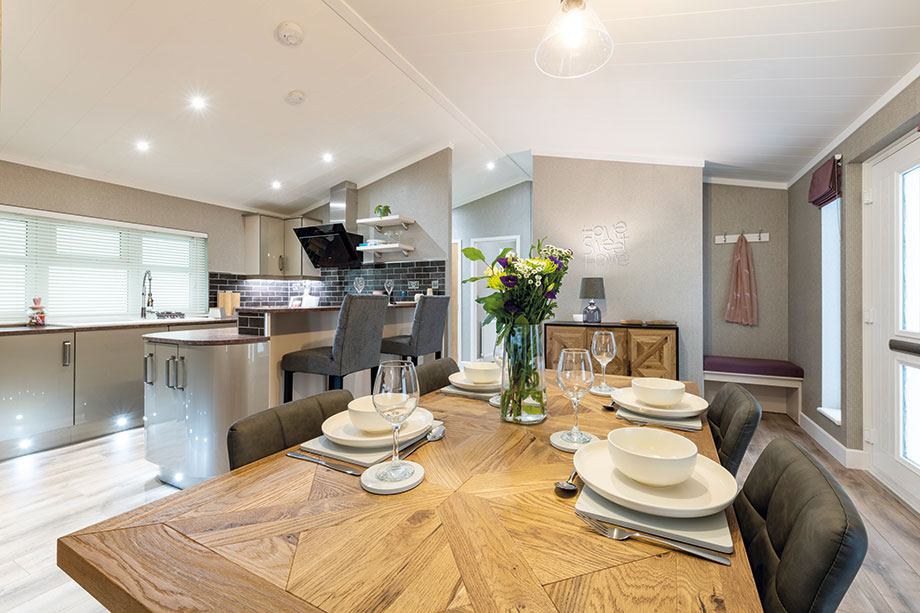 What's new internally?
There are some key tweaks inside, with new elements that have added enormously to the appeal. In the kitchen a large work surface and breakfast bar have been added, giving it a huge amount of 'wow' factor – it really packs a punch here. That makes sense as there was plenty of space for it, turning it into an ultimate dream kitchen, and one of the best we've seen in any residential park home out there.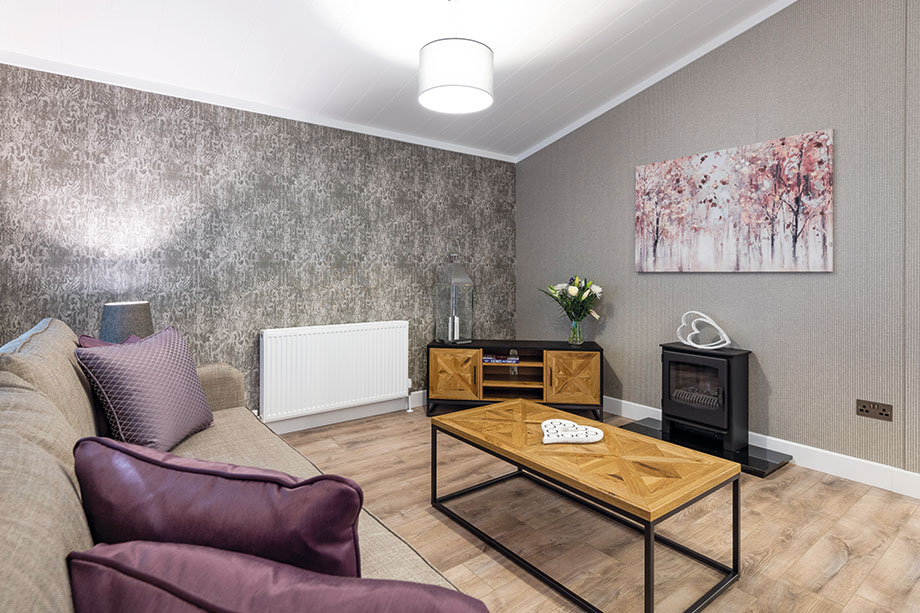 Sumptuous design
The interior design has also been updated with some very classy shades and fabrics, and we love the shades chosen; a metallic champagne, sand and grape. Vaulted, panelled ceilings, which can be found throughout, add to the feeling of spaciousness and sophisticated, rustic-chic styling help give this home an air of quality and luxury. The flooring throughout the open plan area is in an oak-effect laminate, adding warmth visually, but also particularly practical for those with pets or looking for an easy clean option for health reasons.
---
KEY FEATURES
● Characterful, symmetrical external design with feature slate tiling.
● Spacious, open living space.
● Dual-aspect lounge spanning the width of the home.
● Stunning kitchen and separate utility room.
● Large master bedroom with en suite shower room.
● Striking interior design theme.
INFO POINT
The Cranborne is available to view at Omar Group's showground in Brandon, Suffolk. This model will also form part of the Wessex line up at this June's World of Park & Leisure Homes Show, at Stoneleigh Park, in Warwickshire. The Stoneleigh Show takes place from 10 to 12 June and is free to enter and to park.
For further information contact:
T: 0345 257 0400
E: sales@wessexparkhomes.co.uk
W: www.wessexparkhomes.co.uk
---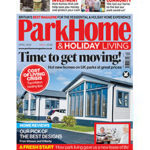 Read the full story in the April 2022 issue of Park Home & Holiday Living