Bella Brodie finds out how Wessex has woven a spell of enchantment with its brand-new Spinney
Wessex is a name synonymous with lodges that are edgy and push the boundaries of design with something really fresh.
That's definitely the case with the new Spinney Luxury Lodge which launched this summer. It was packed with a whole host of innovative ideas and clever little touches which made it great fun to explore, but the real joy of the Spinney is in the design, which is characterful and rustic with a contemporary twist – a combination which keeps it really edgy while also giving it bags of wow factor.
That was always the intention as Nathalie Montague, designer of the Spinney explains; "Unique lodges is what the Wessex brand is all about, so for me that's all about bringing something fresh for buyers to choose from, with personality and wow factor. There are lots of quirky touches in the Spinney which will make it a real treat to own, but I felt it was important that they have a very practical function too like the lit cubby holes with USB points in the bedrooms, the furniture with hidden storage areas and even the sliding oven door and utensil rail. From working out where you put your bags when you walk in to checking how comfortable the chairs are, I've made the journey within the design and supply process to make it extra-special to stay in. Of course, aesthetics are a huge part of that, and I'm really pleased with the way it's all come together visually too – the feedback has been great!"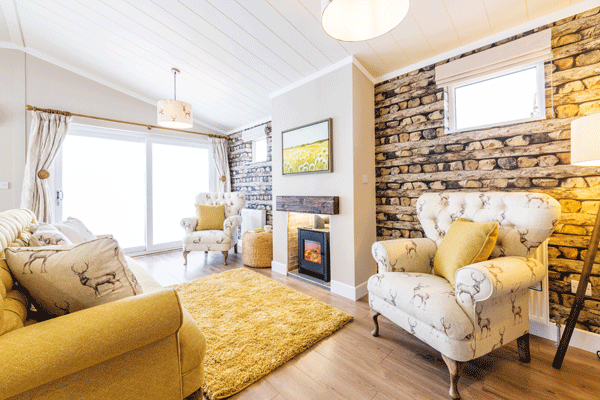 Accommodation
This Spinney shown has a 45ft x 20 base but would beavailable in different sizes and with a range of adaptations. The accommodation comprises of an entry cloakstand area and inner hallway, galley kitchen, cosy lounge/diner, family bathroom
External features
The exterior styling has a lovely welcoming feel created by a cottage-style front door in a soft green colour, full-height windows and CanExel cladding in Ced'R-Vue Sandalwood although other colours and claddings are available to suit all park environments. The door was a bit of a talking point at the show launch as it gave an edgy feel to the lodge externally and it co-ordinates with the kitchen shades so we felt it worked really well, but anyone who found it too edgy could easily ask for another finish. It might be a bit of a shame to do that though as it's where this lodge's personality starts to kick in – immediately! Other external features include patio doors to the lounge, full height windows to the dining area and fisherman's wall lantern to the front door.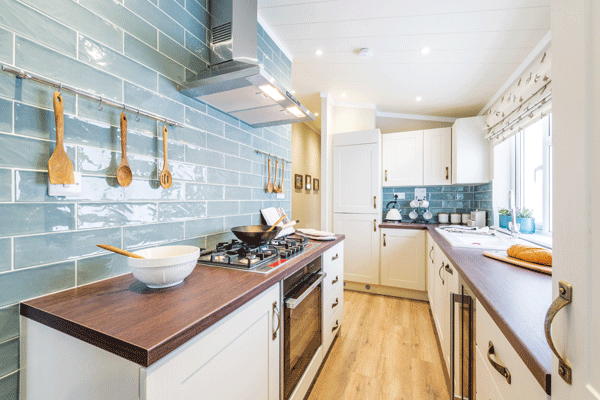 INFO POINT
Wessex Unique Lodges & Park Homes
Pleszko House, London Road,
Brandon, Suffolk IP27 OLX (for sat nav)
T: 0845 257 0400
E: sales@wessexparkhomes.co.uk
W: www.wessexparkhomes.co.uk
---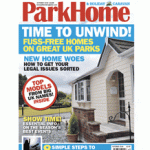 Read the full story in the October 2018 issue of Park Home & Holiday Caravan