Bella Brodie reports on the latest incarnation of one of Prestige Homeseeker's most groundbreaking models, the residential masterpiece that is the Grand Symphony…
Back in June 2012 I had the honour of breaking what was then massive news in the park home industry – the launch of the Grand Symphony as a brand-new model to market.
At the time it was thought to be the largest homes exhibited at 60ft x 22, and also one of the most expensive as it approached the £500,000 mark, once sited in a premium location in Dorset.
While still absolutely a show-stopping home in terms of design, appeal and impact, it's become more accessible than ever, with a range of sizes available and a new interior uplift which could easily be described by many as improving on perfection.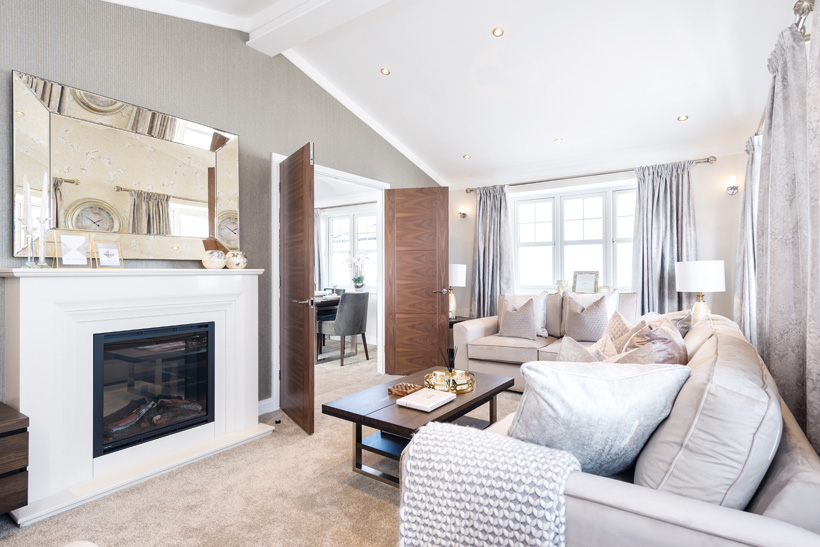 SEE IT FOR YOURSELF!
Prestige Homeseeker have recognised that as a real 'dream home' it deserves a permanent place on show at their showground in Rushden, leading the pack as their aspirational show-stopper amongst showstoppers.
Exuberant, extravagant and elegant, the Grand Symphony fully deserves this flagship status, and with its new interior design, we think it will be set for many, many encores yet.
ACCOMMODATION
The version shown here is built to a 52ft x 20 footprint, with large entrance hall, stunning kitchen/diner, large 'cross' lounge running the width of the home, family bathroom, study, double bedroom and master suite with large en-suite shower room and dressing room.
EXTERIOR STYLING
The outside of the distinctive Grand Symphony hasn't been changed too much, and that's because they got it right from the outset. Clever mixing of stucco and Canexel finishes and contrasting colours break up the side walls, with box bay windows, three dormers and a side overhang at the main entrance adding to the effect. The contemporary-style of the front door is enhanced with glazed panels, and the entrance has a great feeling of grandeur.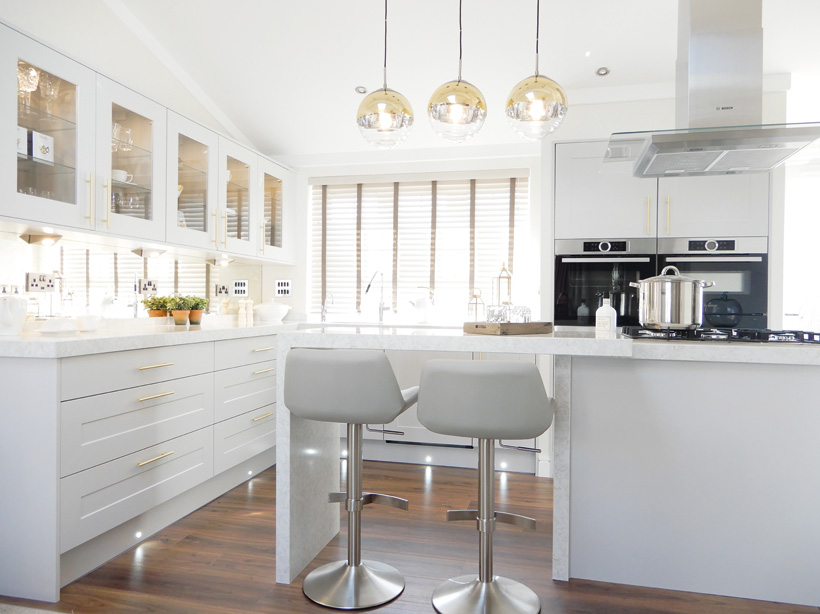 Checklist
Key Features
● Vaulted ceiling to lounge, kitchen and diner
● Colour coordinated sofa, curtains and carpets
● Fully fitted kitchen and bedroom furniture with walk in wardrobe & en-suite
● Five burner gas hob, double oven, microwave, warming drawer, wine cooler, dishwasher, American fridge/ freezer and washing machine
● Dining table including six chairs, coffee table, two lamp tables & TV unit
● Bluetooth built-in speaker system
Info point
Prestige Homeseeker Park and Leisure Homes is at:
Shipton Way, Express Business Park,
Rushden NN10 6GL
T: 01933 354000
E: sales@phplh.com
W: www.prestigehomeseeker.com
The showground open six days a week (Monday to Saturday).
---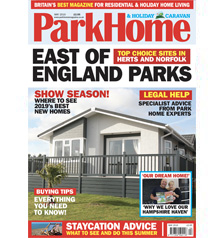 Read the full story in the May 2019 issue of Park Home & Holiday Caravan