Omar flies past the finishing post in winning style with this park home's accessible price point. Bella Brodie reports…
Launched at The World of Park and Leisure Homes Show, at Stoneleigh Park, in Warwickshire, this year, Omar's brand-new Newmarket residential park home is a stylish addition to the range, and the company has romped home to deliver a truly appealing price point for buyers with it. Very well received, it's already established itself as a core model in the Omar range, and it looks set to stay there indefinitely.
After the launch, Steve Taylor, Omar Group area sales manager (south-east) commented: 'The Newmarket is a fantastic addition to the range; affordable with Omar's stamp of quality and intelligent design features. Visitors were genuinely surprised to hear how affordable this home is and they loved the layout and simple yet stylish interior design.'
So what makes it work so well? Well, the Newmarket is not a blank canvas as it's beautifully presented, but neither is it packed with elements that raise the price point either, recognising that many buyers may want to either just enjoy a visually uncluttered home as they move in or add to that with their own 'bits and pieces' later.
It still feels like great quality too, so buyers will have a lovely home without having to break the budget to live in one, so it's no wonder that this is a home which is already hitting the spot.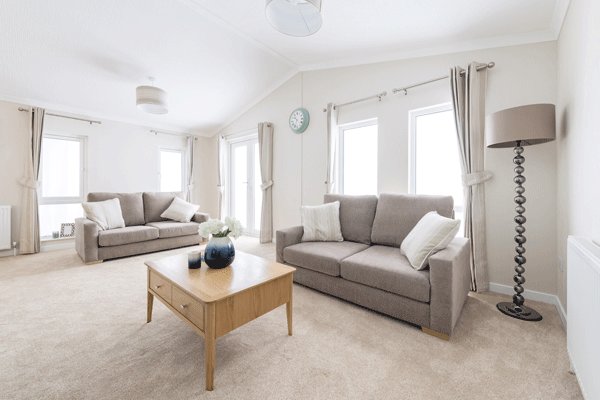 ACCOMMODATION
The model shown here is built to a 40ft x 20 footprint, with an open plan lounge, diner and kitchen area adjacent to the diner, two double bedrooms and a family bathroom.
The master bedroom has a walk-through wardrobe area taking you into an en suite shower room.
The minimum size for the Newmarket is 34ft x 20, and the maximum is 65ft x 22. The 50ft x 22 model allows for three bedrooms. A fitted study is available on some floorplans.
EXTERNAL FEATURES
The simple yet stylish exterior benefits from tall windows to the front of the home, allowing plenty of natural light in and French doors to the lounge area; a lovely feature for those long summer days. We loved the grey Stucco finish here with the black trim on the window frames and rainwater goods, and felt that those windows gave it a modern feel.
Even the front elevation is sleek, with a glider-like perspective on the pitched front facade adding an almost subconscious stylish touch.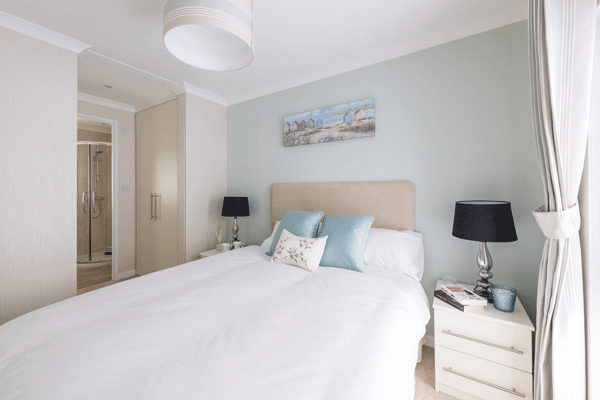 ---
CHECKLIST
Key Features
● Vaulting to living areas.
● French doors to lounge.
● Luxurious bathroom.
● En suite shower room.
● Comprehensive range of appliances.
---
INFO POINT
Omar Park & Leisure Homes is at:
Pleszko House, London Road,
Brandon, Suffolk IP27 ONE
T: 01842 810 673
E: sales@omar.co.uk
W: www.omar.co.uk
---
Read the full story in the November 2018 issue of Park Home & Holiday Caravan