Bella Brodie takes a tour of the latest Tingdene Barnwell, a new incarnation of one of its most popular models.
One of Tingdene's most popular homes since it was launched, the Barnwell combines many great features in one home and has plenty of personality. A practical layout with traditional feel yet a bang-up-to-date vibe, it has plenty of visual appeal throughout, making it a sure-fire pleaser.
When looking for a park home, other than price, there are often three major boxes buyers really like to tick and the Barnwell scores a real hat-trick on all three; space, storage and style. They have paid perfect attention to the fine detail to make sure every space works well and flows well too.
Size and layout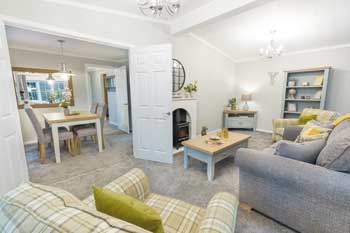 The model shown is a 42ft x 20 footprint; a very popular size, although you can also view the 40ft x 20 and 46ft x 20 plans on the Tingdene website, along with taking a video tour to help you orientate! The 40ft x 20 is perfectly spacious, with two bedrooms; the master leading through a dressing area to an en-suite shower room.
In the 42ft x 20 the dressing area and walk-in wardrobe are particularly large, so if one of you is a clothes hoarder and you are wondering how you'll manage to downsize, this is definitely your target model! The 46ft x 20 adds further room for a study, and the kitchen is a bit larger too.
External features
Externally, this home has a distinctive yet classic look which makes it easily identifiable on parks. There's a double apex to the front, and a slightly recessed porch creates a welcome entry point.
There are four large bay windows with Canexel box tops in a dark grey granite shade, making it stand out beautifully from the exterior render finish. The inset porch is horizontally clad in the same Canexel, with an inset low energy spotlight to the ceiling.
Dining area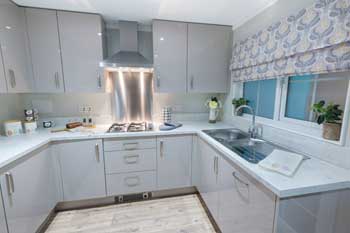 Walking into the entrance hall, you turn right to living areas and left to the bathroom and bedrooms. There's a large, carpeted cloaks cupboard immediately on the left spacious enough for a vacuum and bags, shoes, etc, so this will be an easy area to keep tidy.
A pretty, grey mirrored cloaks hanger opposite the door as you enter anyway, bouncing light back into the hall. The dining area is conveniently adjacent to the kitchen and can be separated from the lounge by shutting the solid double doors which lead that way, or they can be left open to let it work as a larger space. There's a further solid to separate it from the kitchen if needed. It's a flexible arrangement which will work whichever way you need to use it; open plan or traditionally.
Checklist
Key Features
● Contemporary kitchen with hob, oven, extractor hood and integrated appliances.
● 2 double bedrooms, master with walk-in wardrobe, dressing area and en suite.
● Separate bathroom with feature tiling.
● Masses of storage throughout.
● High quality fixtures and fittings.
● Modern contemporary interior design.
● Double apex to front with Canexel detail.
Info Point
Tingdene Homes Ltd is at:
Bradfield Road, Finedon Road
Industrial Estate, Wellingborough, Northants NN8 4HB
T: 01933 230 130
E: sales@tingdene.co.uk
W: www.tingdene.co.uk
Visitor Centre opening times
Monday to Thursday: 9am to 5pm
Friday to Saturday: 9am to 4pm
Bank holidays: 9am to 4pm
---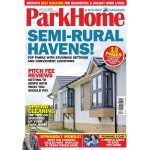 Read the full story in the April 2018 issue of Park Home & Holiday. Caravan