Bella Brodie reviews this new take on an existing favourite from industry trendsetter Omar Park & Leisure Homes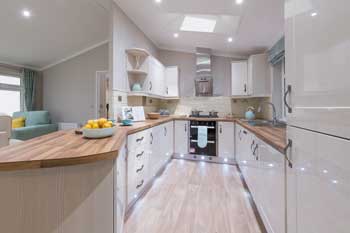 The Kingfisher, which has been credited as creating the luxury lodge market, has been one of the most popular lodges in the UK for many years. The newly-refreshed 2018 model was on show at the Caravan, Camping and Motorhome Show, at the NEC, Birmingham, presented as part of a new holiday village designed to show models in a 'natural' environment. This is a model that continues to go from strength to strength with a tried-and- trusted layout and interiors that are kept bang-up-to-date, hence the latest refresh.
Size and layout
This 42ft x 20 model has two double bedrooms and an open plan living space incorporating the lounge, dining area and a well-equipped kitchen. There's a family shower room and the master suite has a dressing/storage area and en suite bathroom. With the Kingfisher, there are several layouts and sizes available with variables such as a utility room, en suite bathroom or shower room and one-, two- or three-bedroom versions.
Internal styling
Inside, vaulted ceilings create a bright and spacious feel and contemporary interior design. A colour scheme of warm, natural tones comes together to create a wonderfully relaxing atmosphere.
External features
The distinctive full-glass façade, with feature lighting, is strking, while two sets of French doors to the front allow the living space to extend outside onto decking – perfect for holiday living! The cladding is in Yellowstone Canexel, although it is also available in a range of other colours and cladding options. Lighting has been well thought through, inside and out, while a roof dormer over the side entrance leads through into a good size utility room in this model (although in others it leads into an entrance hall).
Utility room
The utility room seems a particularly good use of that space. We can see why this layout is a very popular option. The boiler is housed here and, as utility rooms go, this is very pretty indeed, with cream brick-effect tiled splashback and ivory units. A window to one side ensures it's not dark, dressed with a good quality Roman blind in sage green against a papered backdrop. There's room here for the washer/dryer, which means that you won't have to listen to it sitting in the lounge – always a plus point!
Living space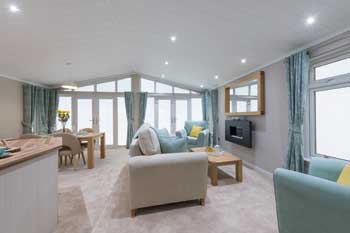 The open-plan living space includes the kitchen, dining and lounge areas. It's a stunning space: light and airy, with a new colour scheme that's really beautiful.
In the kitchen, contemporary, ivory-gloss kitchen units have soft, self-close doors and drawers so you can feel the quality to the touch. Low-level lighting will create a lovely ambience at night, and spotlights up high surround a Velux window which lets extra light in.
The expansive Axiom walnut butcher's block worktop is pretty and practical, and there's an integrated fridge/freezer and dishwasher all tucked away behind matching unit fronts. That is a clever design point that makes for a sleeker look and adds additional visual appeal.
The only break in that design is for the oven, which Omar has turned into quite a visual feature, balancing the kitchen nicely with a stainless steel extractor hood and glass panelling.
If you look closely, you can see the luxurious build quality in other ways here, with that stainless steel from the oven and hood picking up in the tiling trim and handles, although they are brushed steel. Display cornice shelving in the kitchen and utility areas again ooze quality, in addition to creating an opportunity to personalise your lodge with a few nick nacks of your own choice.
In the lounge area, a contemporary wall-mounted pebble fire, comfortable sofa and armchairs provide the perfect space to relax. Spot lighting in the vaulted ceiling keeps the look clean and clear. Homely yet fresh, this is an inviting space that should feel like a home-from-home whatever the weather.
The dining area, which sits in front of French doors next to the kitchen area, is perfectly positioned for taking in a view, while pendant lighting creates a lovely ambience for dining. The fully-lined curtains and tie-backs to the side and front are striking, and it feels particularly spacious and light in this section of the Kingfisher.
Master bedroom suite
The model displayed includes a generous master bedroom with feature wall, large dressing area and en suite. There's plenty of hanging space behind sliding panelled doors, perfect for those who like to pack for every eventuality. A large window and spotlights mean there are no dark corners, while there's plenty of floor space to move around in without having to even contemplate pulling your stomach in!
The en suite is a major plus, as it has a bath with shower overhead, large feature tiling and a soft-close WC in the crisp white, modern suite. Chrome trim is evident here again, and an LED-lit mirror above a suspended vanity unit and wash handbasin add further touches of class and luxury.
Family shower room
The bathroom, positioned centrally in the Kingfisher, is actually a shower room but this seems to make perfect sense this way round for general use. As shower rooms go, this is lovely. White Venetian blinds frame a good-sized window, so there's no shortage of light, and the modern units are white with the same feature tiling and silver trim as in the en suite. Very pretty indeed and it should be really easy to keep spotless.
Second bedroom
The second bedroom in this model has been shown here with twin beds, although it's a good size for a double if preferred, or even bunks to one side, perhaps, to increase rental capacity as one side goes high into the vaulted ceiling.
There's good floor space again, and plush, feature headboards are oversized for impact against the feature wall.
Our verdict
The layout in this version of the Kingfisher lodge makes sterling use of space in a mid-sized model. You can definitely feel the luxury in every room throughout.
There are no poky rooms and everybody will have a good amount of space to chill out in, either together or separately. It's a really sociable home and definitely conducive to relaxing in.
The open front elevation lends itself to enjoying extended decking space where available, so this lodge could feel huge whichever footprint you choose.
For most, the bath in the en suite should work well practically and there's a good amount of storage throughout the lodge.
Overall, the new Kingfisher is an uplifting lodge option and the latest interior design scheme should appeal to a wide customer base, while having plenty of plus points to make sure it really stands out.
In short there's a reason why the Kingfisher is one of Omar's best-selling lodges; it would be really hard to find fault with – it's a fantastic lodge!
Key Features
● Two sets of French doors to
the front elevation.
● Fresh, new colour scheme.
● Sleek, well-equipped kitchen.
● Cosy lounge with pebble-effect wall- mounted fire.
● Master suite with dressing area/storage and bathroom.
● Plenty of storage space throughout.
Info Point
Omar Park & Leisure Homes is at:
Pleszko House, London Road,
Brandon, Suffolk IP27 ONE
T: 01842 810 673
E: sales@omar.co.uk
W: www.omar.co.uk
As featured in the April 2018 issue of Park Home & Holiday Caravan