Bella Brodie reports on a calming, restful residence from Prestige Homeseeker…

The Avanti has always been a pretty and calming residential home model, and the first version was a real breath of fresh air when it was launched. The latest updated version newly released has just as much impact and appeal, with inviting colour palettes and fabrics giving it an uplifting feel throughout.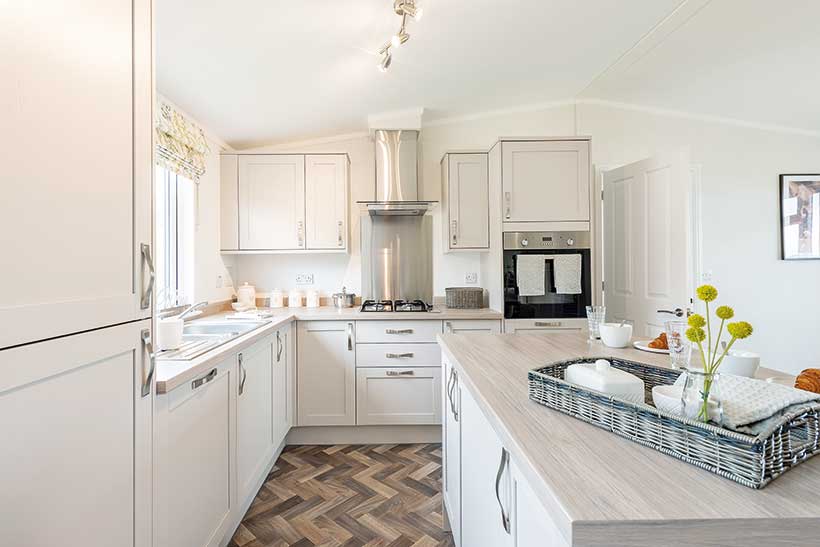 EXTERNAL APPEARANCE
The Avanti is a front-entranced home with a striking split-level roofline, so it is pretty breathtaking from the outset, with plenty of kerb appeal. Easy on the eye with render in a light finish bordered by feature cladding strips, this really does look a little different from your standard park home, and that lack of conformity to convention continues inside, mostly in the lounge area.
We particularly like the contrasting frames and rainwater goods which enhance the home visually rather than being a necessary evil.
INTERNAL APPOINTMENT
The pastel colours used throughout make this a memorable home. Likely to tickle the senses like a pretty bouquet, watercolour depictions of lush blooms and blossom-laden sprigs help conjure up that feel of taking a big breath of fresh air outside on a spring day, also reminiscent of the Edwardian country diaries in feel. A tour around the Avanti is reminiscent of a stroll around a pretty country garden.
Planting that seed of a perfectly organised, idyllic lifestyle in such a pretty home is quite a clever trick, and combined with geometric elements in the design to ensure that there are striking visual pick up points, this is a home likely to appeal to all.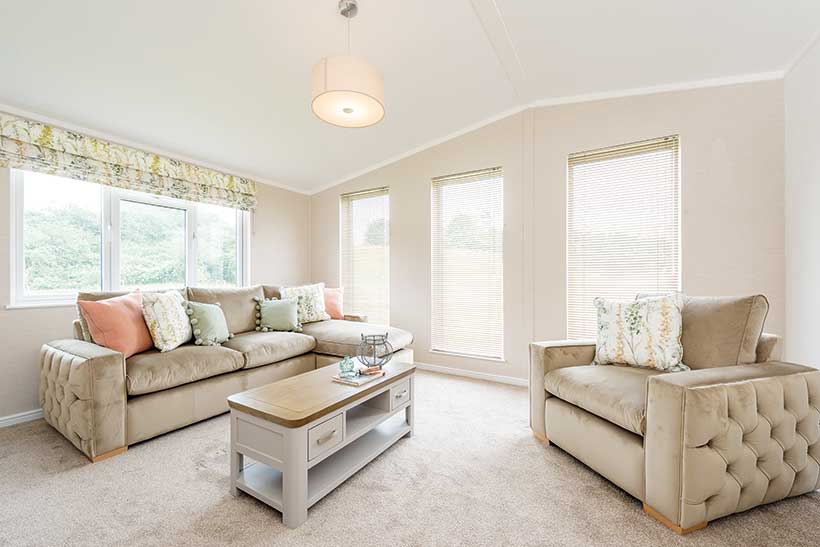 ACCOMMODATION AND LAYOUT
The Avanti has its main entrance at the front of the home, with an entrance lobby leading through into the lounge. On into the kitchen/diner there's a second entrance from the kitchen from outside, and then you have the family bathroom.
Opposite that is a double guest bedroom, and then the master suite sits at the back of the home, complete with dressing area and en-suite shower room. All homes from Prestige Homeseeker are available in a range of sizes up to to 65ft x 22 in either one-, two-, three- or four-bedroom options.
CHECKLIST
Key Features
● Split-line roof
● Fronted Entrance with lobby
● Coloured co-ordinated sofa, curtains and carpets
● Fully fitted kitchen, and bedroom furniture with walk in wardrobe & en-suite
● Four burner gas hob, eye level oven, dishwasher, fridge/freezer and washing machine
● Uplifting design feel and relaxing colour theme
---
INFO POINT
Prestige Homeseeker Park and Leisure Homes is at: Shipton Way, Express Business Park,
Rushden Northamptonshire NN10 6GL
T: 01933 354000
E: sales@phplh.com
W: www.prestigehomeseeker.com
---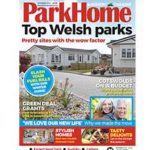 Read the full story and find more new homes in the November 2020 issue of Park Home & Holiday Caravan