Omar strikes a chord on value with this luxury lodge! Bella Brodie reports
The Omar Group is no stranger to a centre-lounge layout or a monopitch roof, and the Wessex Harbour notably set the bar in this superb genre of lodge. Omar Park & Leisure Homes has now launched a brand new Atrium Monopitch lodge; pitch perfect as a big hitting version but with a more accessible price tag than one might expect.
In a competitive marketplace that's a major plus point for park buyers, so we thought we'd have a closer look at what it delivers for that price.
LAYOUT AND ACCOMMODATION
Shown here in a 45ft x 20 size, this version has a centre-lounge, kitchen and dining area to the rear of that, entrance hall, and two bedrooms – one at each end of the lodge, and both with en suites. There are two more sizes available: a 40ft x 20, also with two double bedrooms; and a 50ft x 20, which has enough space for three double bedrooms.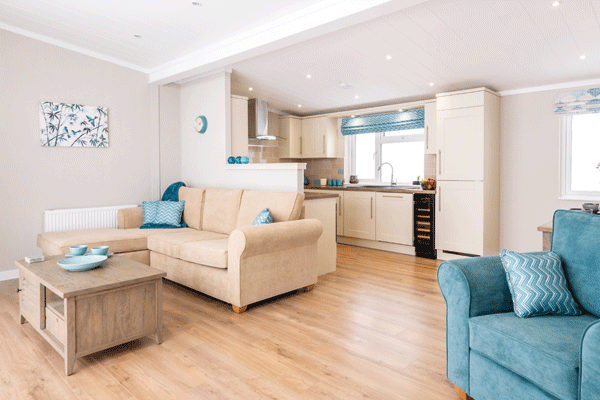 EXTERNAL FEATURES
The exterior immediately makes a strong impression with its monopitch roof, symmetrical frontage and horizontal and vertical cladding.
The large expanse of glass to the front includes bi-fold doors to the central living space, French doors to the bedrooms and further windows that sit at above all the windows and doors on the front elevation. The decking possibilities with the Omar Atrium are a key part of its appeal too, as you could run that from one end to the other at the front, adding considerably to the outdoor space and creating three separate seating areas, or two and a hot-tub spot if you fancy it.
INTERNAL FEATURES
The interior layout is practical and eye-catching, and the materials used add to the feeling of space and light in equal measure. Light oak-effect flooring and doors add warmth and depth, yet make this a lodge that would also be pretty hard-wearing.
White panelled ceilings throughout, inset with spot lighting, keep the lines clean and uncluttered. This is a model where less is more, visually, yet it still feels really luxurious!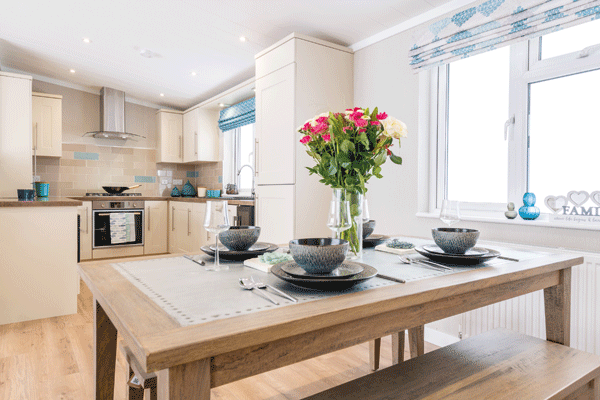 ---
CHECKLIST
Key Features
● Bi-fold front doors, and two further sets of French doors to bedrooms
● Wall-mounted fire with logs and embers
● Isla-style stretch corner sofa and armchair
● Luxuriously equipped kitchen with Corian worktop
● Two well-appointed en suite bathrooms
---
INFO POINT
Omar Park & Leisure Homes is at:
Pleszko House, London Road, Brandon,
Suffolk IP27 ONE
T: 01842 810 673
E: sales@omar.co.uk
W: www.omar.co.uk
---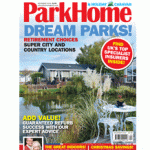 Read the full story in the December 2018 issue of Park Home & Holiday Caravan