Aspire Park & Leisure Homes is well known for its quality and innovation. In PH&HC's May issue we gave readers the heads up about the manufacturer's two new entry-level lodges, the Oslo and Artro. We're thrilled to report that the Oslo is now out on display at Aspire's North Wales showground, allowing us to explore it further. Bella Brodie finds out more…

One great design with two amazing interior décor schemes to choose from, Aspire's Oslo and Artro look set to become formidably strong options for those looking to take their first steps into the luxury lodge lifestyle, or for developers looking for the ideal solution for a new rental fleet.
Focusing on the Oslo, it has strong connections with its Scandinavian namesake, and it is apt that the capital of Norway is often reported as having the best hospitality in the world. In fact, travel site Uniglobe proffers that 'tourists are often surprised for being treated like royalty – even those on tight budgets'. Even 'our' beloved annual Christmas tree in Trafalgar Square is donated by the people of Oslo and the sport of skiing in Norwegian means the word 'wood'; very apt for the construction of Aspire's responsibly sourced products.
So, just imagine yourself surrounded by hospitable Oslo residents welcoming you to the jewel of Scandinavia while you sit admiring your new lodge and wondering what beauty of nature you can visit next!
Indeed, this is apparently indicative of Oslo as 15 minutes outside of the city is 'the bush' where you can find yourself sampling the true beauty of nature.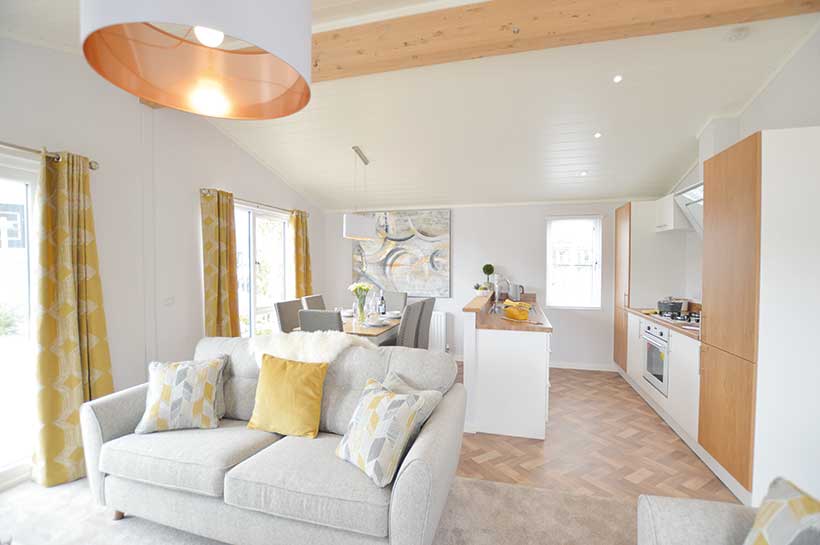 LAYOUT AND ACCOMMODATION
The Oslo and Artro are essentially built to the same footprint, so have an identical layout, although the interior design is different. In the front facing twin unit style here there are two- and three-bedroom options and this arrangement lends itself to a view and decking to one end of the lodge.
There are also two single-unit options offering two or three bedrooms.
The centre-lounge twin unit options are also available with two or three bedrooms. This layout allows occupants to make the most of a view from the side of their lodge. A benefit of this layout is the additional walk-through dressing area to the master, leading to the
en suite. The kitchen enjoys a similar arrangement and feel to the front facing model. We think both are really inviting and will do really well! A 'shopping list' of available extras will allow the homes to be configured by customers to suit specific needs. The Oslo shown here has three bedrooms and two bathrooms, with an open plan living space.
As with most lodges, there is a choice of exterior cladding and colour options available.
The Oslo has a modern, contemporary look with painted and light oak elements throughout with inspiration taken from Scandinavian design, creating a clean and relaxing home.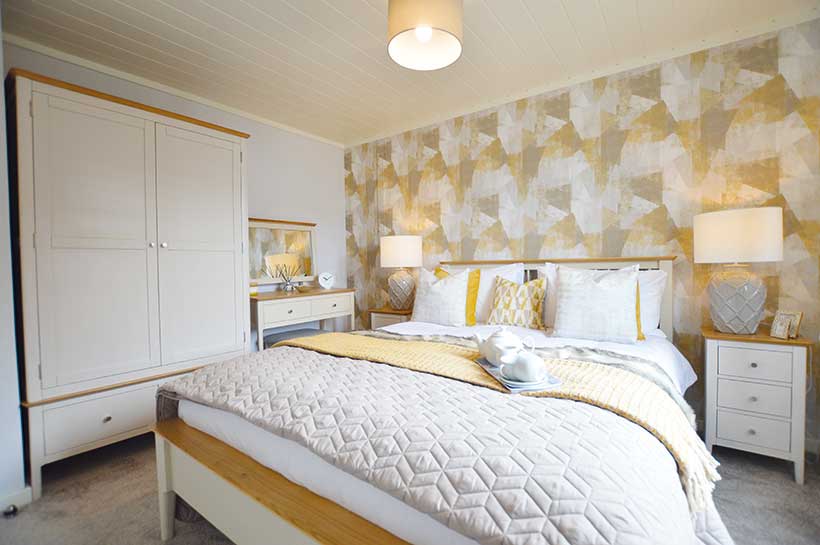 ---
INFO POINT
Aspire Park & Leisure Homes is at: Snowdon House,
Snowdon Street, Porthmadog,
Gwynedd, LL49 9PQ
T: 01766 800 200
E: info@aspireleisurehomes.co.uk
W: www.aspireleisurehomes.co.uk
---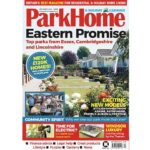 Read the full story and find more new homes in the September 2020 issue of Park Home & Holiday Caravan