Bella Brodie reports on a special collaboration between Wessex and a beautiful lodge park on the Leicestershire/Warwickshire borders…
There's nothing we love more than a 'superlodge', especially when the park and manufacturer have worked together closely to make sure it's the lodge of dreams for the buyer, with exciting and innovative elements built in. That's definitely the case with the latest Omar SuperLodge model we're reviewing here, built as one of the first of many stunning lodges to arrive at Bosworth Lakeside Lodges, near to Market Bosworth on the Leicestershire/Warwickshire border.
On display at the NEC's Camping, Caravan and Motorhome Show in February, it became one of the first lodges to be sited on the park, and there are further bespoke models already in production. Their waterside setting was the starting point for the design inspiration, so it was natural that the park and manufacturing design team used the Wessex Harbour's core layout to work from and adapt, adding further bespoke elements to make it their own. Key to this process was the brief that all guests should enjoy an equally luxurious experience, and that's been delivered through the bedroom/bathroom arrangement, which would be outstanding whichever suite you were staying in.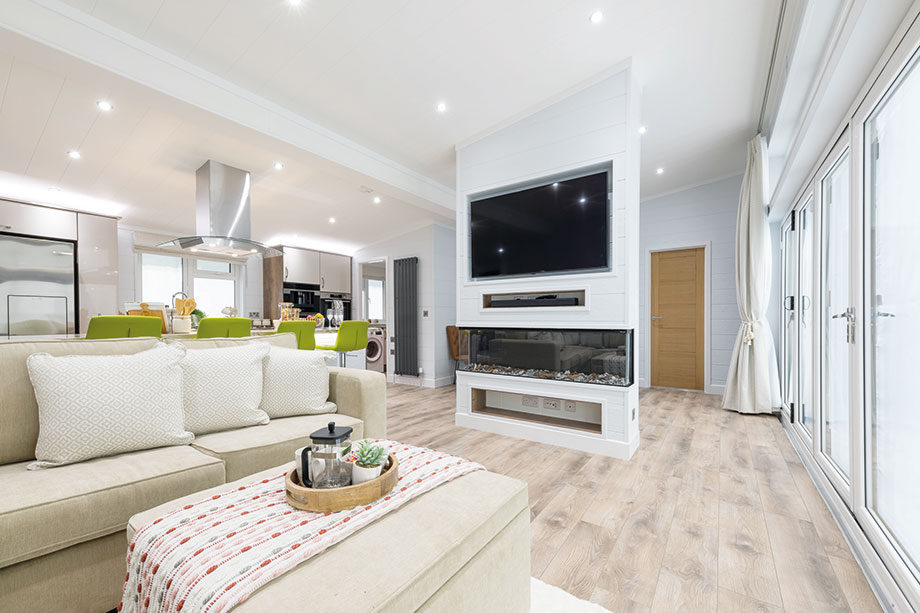 SHARED VISION
Speaking on behalf of the park, Toby Riley explained that they had worked closely with Omar Park Development Services on both the park and lodge offering, working on a joint vision that has now come to fruition. He said: 'We wanted the lodges to be self-sufficient and eco-friendly, so we needed to work with a manufacturer capable of building in a variety of sustainable elements. Some of our lodges will have more of these built-in than others depending on the eventual owner's preferences and budget.'
EXTERNAL SPECIFICATION
This is a lodge built for impact but, of course, it's also designed to make the most of the views. With a monopitch roof, it features horizontal and vertical cladding in CanExel and A-grade cedar.
There's extensive glazing to the front, patio doors to each side leading from the bedroom suites and a central bi-fold door arrangement opening the front up to what will be the lakeside in most cases. Blocks of additional glazing run across the top of all of these letting further light flood in and setting this model a cut above many other monopitch models. Downlights to the front elevation and a brise-soleil style canopy will add atmosphere at night, so we can easily imagine sitting out on the decking watching the wildlife on the lake from here.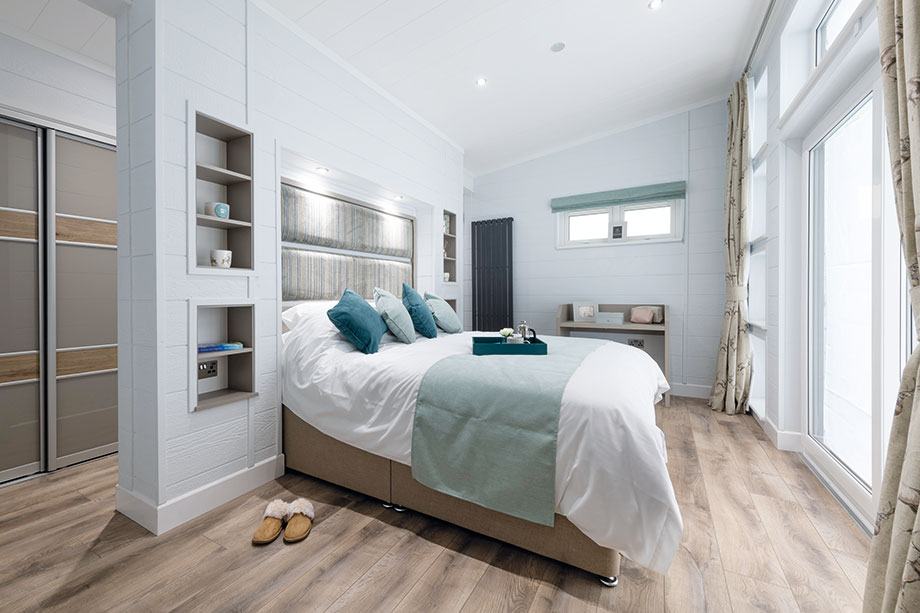 LAYOUT AND ACCOMMODATION
This lodge has spacious central living quarters, with a feature wall between the lounge and dining areas, and a further large kitchen, utility room and larder.
Two large double bedrooms both have en suite facilities, dressing areas and patio doors to the front. One of these is a shower room with a Jack-and-Jill style arrangement, so it acts as the en suite to one of the bedrooms, but also the guest bathroom. Next to that is the rear door and lobby.
---
Key features
● Spacious central living quarters with lounge, dining and kitchen areas
● Feature central wall to the living space with TV and contemporary electric fire
● Kitchen with large breakfast bar and stools, luxury branded appliances, utility room and larder
● Two large double bedrooms, both with en suite facilities, dressing areas and patio doors
● En suite with whirlpool bath, Magic Mirror waterproof TV with ceiling speakers and separate shower
Home to the Super Lodge, Bosworth Lakeside Lodges is a family-owned and run park and the lodges are aimed at over 45s looking for a tranquil setting to relax in. Set in 50 acres of parkland with 20 acres of lakes for boating, fishing, sailing and paddle boards, there will be 103 lodges in total here and sales are already well underway on phase two. Lodges start from £240,000 depending on lodge type and plot position. The park is open for 12 months of the year for leisure use, so owners will be able to take full advantage of their holiday home, enjoying all seasons of the year. For further information, please contact Bosworth Lakeside Lodges on
01455 291876, email sales@lakesidelodges.uk or visit the park's website at www.lakesidelodges.co.uk.
---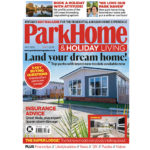 Read more in the July 2022 issue of Park Home & Holiday Caravan