A chic lodge that's perfect for family holidays or cosy getaways, the versatile Burleigh has lots to offer. Bella Brodie reports on this superb all-rounder
Primarily built for its leisure range, the Burleigh also works well for residential use so it's a really versatile model. This model is, in fact, so popular that homes can be built in batches for the rental market – a first for Prestige Homeseeker and an approach that has clear dividends, namely an affordable price point for the buyer.
This is a chic lodge that it's impossible not to love. It's also very welcoming, with plenty of light and warmth, making it feel cosy, yet also spacious. The vaulted ceiling to the open plan lounge, kitchen and diner, combined with the clean white wooden internal doors add to that feeling of space, while the combination of soft whites, creams and greys give it a bang-up-to-date feel.
The model shown is two-bedroom in a 42ft x 20 footprint, but the Burleigh is available in one-, two-, three- or four-bedroom options up to a size of 65ft x 22.
If you're at the World of Park & Leisure Homes Show at Stoneleigh this month, you'll also be able to see the 40ft x 20 version, which still feels extremely spacious!
Accommodation includes an entrance hall, open plan living area, family bathroom and two bedrooms. The master suite also has a walk through dressing area to an en suite shower.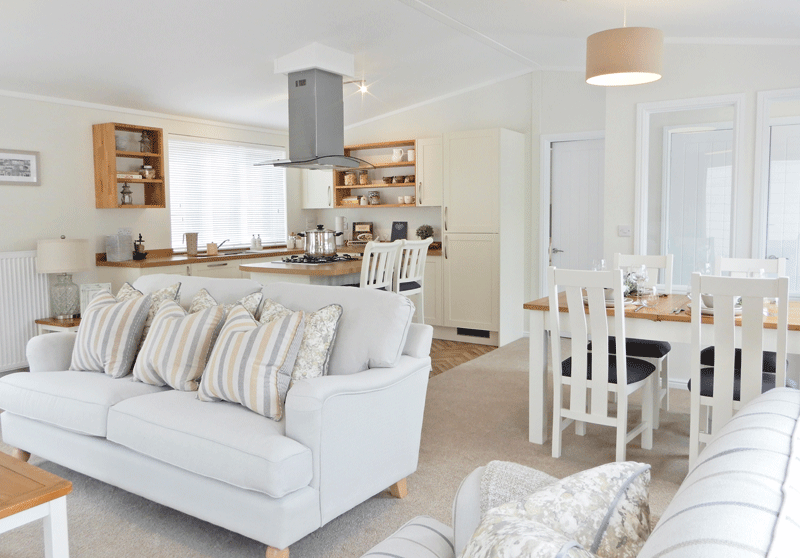 Entrance and living areas
In the Burleigh, there's an entrance area with a partition wall to the dining area, inset with tall windows letting plenty of light in, so each area is well-defined for purpose. There's a large storage area in that entrance space, too – a handy little spot to drop bags in to keep the rest of the lodge tidy!
We were impressed by the durable matting that area that will help keep the lodge clean as it encourages you to kick your shoes off, so this is also a great fleet option. Light floods in from the triple-glazed entrance door to keep this space well illuminated, before walking into a large, open living area incorporating the lounge, dining area and kitchen.
Dining area
With a view from a large side window, the dining area is well-equipped with a pretty dining table and chairs, lit from above by one of three pendant lamps in the living space. Underfoot, the dining and lounge areas are carpeted, which lends itself well to a relaxed, romantic evening meal as much as breakfast before getting dressed in the morning – although there's a breakfast bar too for additional dining space, or a spot to enjoy a coffee while perusing the morning papers!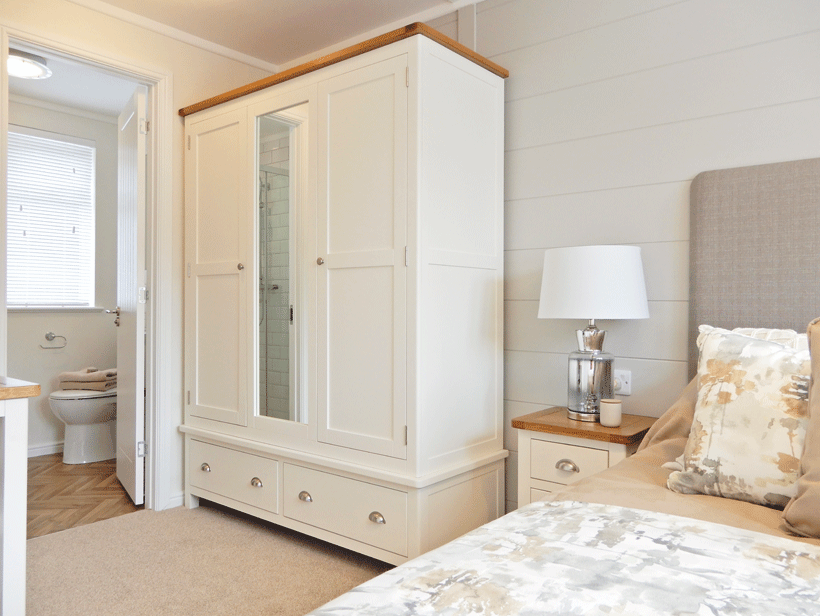 Checklist
Key Features
● Vaulted ceiling to lounge, kitchen and diner.
● Exterior French doors, interior wood panelled walls and doors.
● Colour coordinated sofa and chic armchairs.
● Dressing area and en suite shower room to master bedroom.
● Fully fitted and well-equipped shaker-style kitchen.
● Feature walls to lounge and bedrooms
Info point
Prestige Homeseeker Park and Leisure Homes is at: 8 Shipton Way,
Express Business Park, Rushden,
Northamptonshire NN10 6GL
T: 01933 354000
E: sales@phplh.com
W: www.prestigehomeseeker.com
---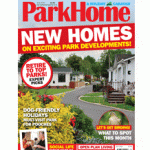 Read the full story in the July 2019 issue of Park Home & Holiday Caravan