Bella Brodie finds out how Wessex has raised the bar with its new Classic – the epitome of good taste!
Wessex recently launched its new 2020 Classic luxury lodge at The Caravan and Holiday Home Show at The Lawns, Cottingham, and it's a stylish and sophisticated new version that has raised the bar for what is not only a Classic by name!
This all-new update of a firm favourite within the Wessex range, was exceptionally well received and has already seen multiple orders from parks that were impressed by its luxurious new design theme and amazing value-for-money. We take a look inside the 40ft x 20ft model and find out more…
LAYOUT AND ACCOMMODATION
This 40ft x 20 version has two bedrooms, an open plan kitchen/lounge/diner and separate utility room, family bathroom, spacious twin bedroom and master bedroom with en suite shower room.
The Classic is available in a range of standard floorplans from 36ft x 20 through to 45ft x 20, but even at 36ft x 20 the rooms still feel spacious with this layout – the larger models just add more space to the living areas and bedrooms.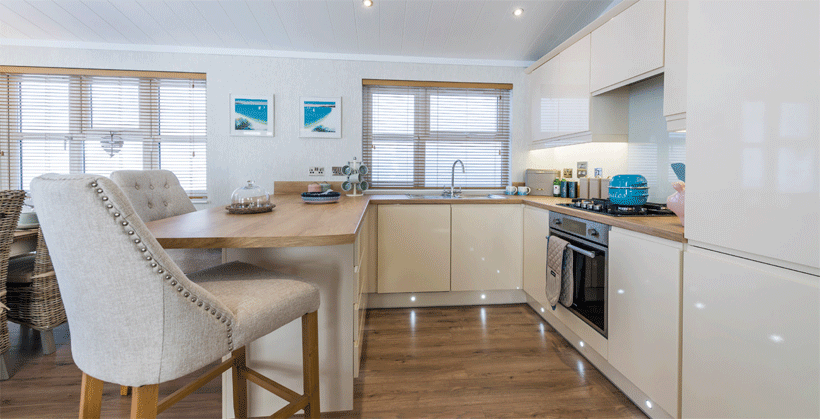 EXTERNAL SPECIFICATION
The outside of the Classic is one to look at closely, as while it looks traditional, there's a twist of class there and more clues to the level of luxury you'll find inside.
The Classic now has angled feature glazing above the French doors and full-length triple-panel windows to the front elevation. Highlighted by downlights in the extended front soffit, this new exterior detail adds character while the interior feels more light and spacious than ever.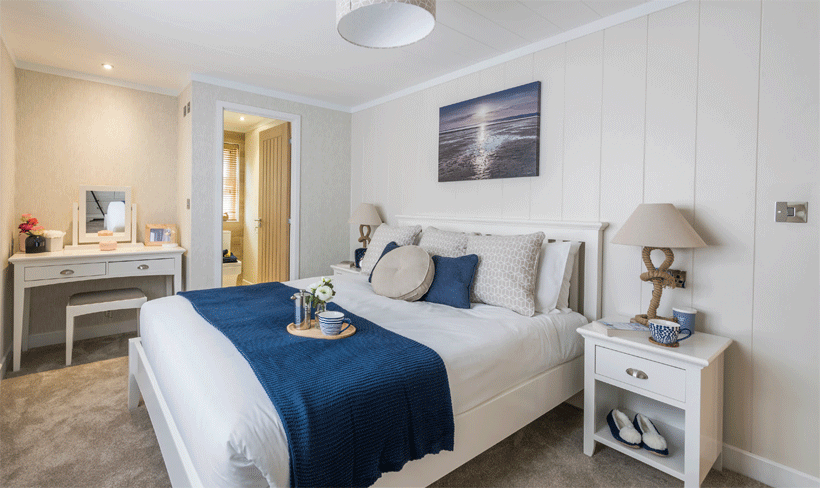 INTERIOR SPECIFICATION
Stylish, sophisticated and comfortable with a lovely light and airy feel throughout, the Classic provides a wonderfully luxurious retreat with its unique character and true Wessex style. The first thing you notice about the new Classic is the quality in the fabrics and soft furnishings, and expert use of textures to add even more class and sophistication. Light oak internal doors add warmth, as does the light oak-effect flooring in the areas that are not carpeted, such as the utility room, kitchen and bathrooms. Undoubtedly, another real strength of this lodge is in the smooth and simple lines of the interior design, while delivering that level of luxury – exactly what a classic model should be all about! This is a model that really has to be seen to be fully appreciated when it delivers immediately on the promise of class on other levels you can't necessarily see with the naked eye – through touch, feel and all-round comfort.
---
CHECKLIST
Key Features
● Timeless, classy interior design theme
● Oak interior doors with polished chrome handles throughout
● Striking and sumptuous seating in the living area
● Utility room on selected floorplans
● Flat panelled ceilings to bedrooms and bathrooms
● Vaulted panelled ceilings to living area
● En suite shower to master bedroom
● Spacious second bedroom
---
Wessex Unique Lodges & Park Homes is at: Pleszko House, London Road, Brandon, Suffolk IP27 ONE
(For sat nav use IP27 OLX)
T: 0345 257 0400
E: info@wessexparkhomes.co.uk
W: www.wessexparkhomes.co.uk
---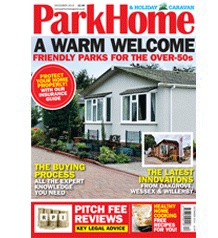 Read the full story in the December 2019 issue of Park Home & Holiday Caravan