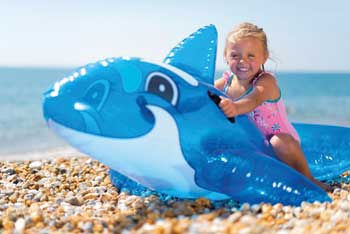 Parents of young tots, who don't yet have children of school age, can take advantage of a special 'Totally Tots' off-peak holiday package from south coast holiday operator Bunn Leisure. As well as keen pricing, families can enjoy a break that's much quieter than the usual summer holiday – but every bit as fun and action-packed!
Bunn Leisure is offering its off-peak Totally Tots package this June and September, from just £31 per person for a four-night break.
With places to eat, an interactive soft play area and bundles of other tailor-made kids' club delights, tots have the run of the holiday park throughout the term-time hush.
The Totally Tots package also includes a free travel cot set up in your holiday home, and a host of fun, free family entertainment.
Parents and toddlers can splash around at the park's Oasis Leisure complex, with Aqua Tots mornings that include water floats and inflatable toys, plus there's a Tots Soccer School to keep little ones active, and mini baking classes with Betsy Bunni, one of Bunn Leisure's mascot characters. And, as an extra bonus, under-5s can eat for free*.
Bunn Leisure also has its own beautiful mile-long beach, and exclusive vouchers for nearby attractions and amusements, such as Marwell Zoo, Fishers Farm and The Blue Reef Aquarium, come free in all welcome packs.
For more information, visit: www.bunnleisure.co.uk, or call: 01243 606 080.