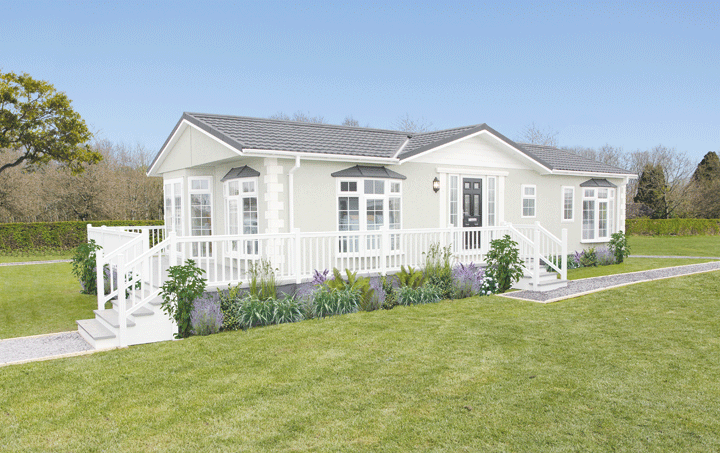 Omar is delighted to have launched the 2019 Sandringham park home at The World of Park & Leisure Homes Show (South of England) recently to great acclaim.
Already a popular model within the range, appealing to those drawn to the traditional, the new model, while retaining many popular features of its predecessor, has been lifted to a whole new level through stunning new interior design.
Here's a bit more about the 45ft x 20 model displayed…
A classically styled, traditional park home that exudes quality and sophistication, the Sandringham has timeless elegance alongside practicality.
Available in a variety of standard layouts and sizes, and with the option of a fitted study and utility room on selected floorplans, this beautiful home can easily be adapted to fit individual requirements.
The distinctive exterior remains largely the same and stands out from the crowd with its large curved bay windows with Georgian bar, feature front door framed by glazed panels and lintel and pilasters, and of course the extended curved dining area complete with French doors. This is a home with true kerb appeal!
Inside, a large hallway leads into a comfortable and stylish L-shaped, open-plan lounge and dining area. The living space is light and inviting thanks to the bay windows and French doors and lends itself perfectly to take in garden or countryside views. Conveniently situated next to the dining area, a contemporary, fully-fitted galley kitchen with integrated appliances can be found.
The bedrooms and bathrooms, in a natural colour palette highlighted by soft lavender and dusky blues, flow seamlessly from the main living space. Here comfort and style sit alongside practicality as this home offers much more in terms of storage space than usually found.
Graeme Craig, Omar chief executive, commented: 'The new Sandringham is more popular than ever.
'Visitors to the show loved the beautiful new colour scheme and furnishings and were pleasantly surprised at its affordable price tag.
'This is a home with mass appeal and it's easy to see why!'
For more information call the Omar team on 01842 810 673, email sales@omar.co.uk or visit www.omar.co.uk.