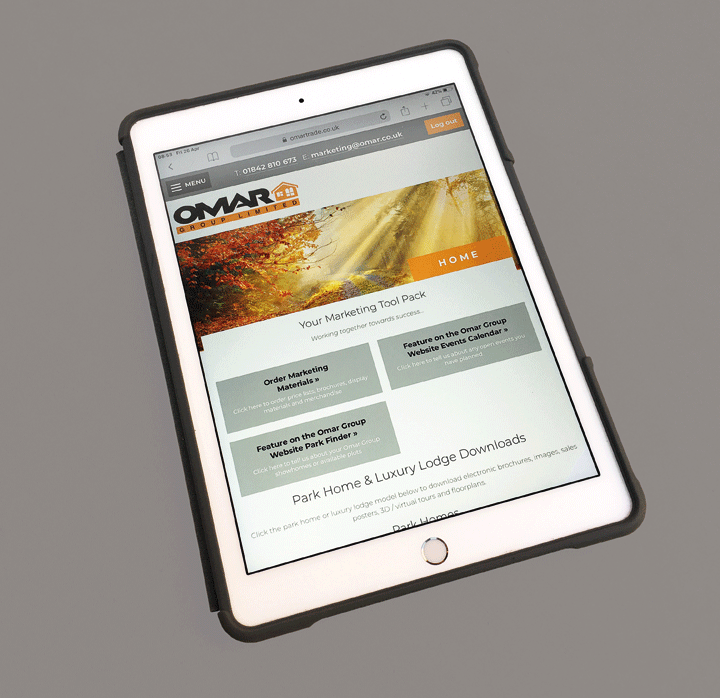 Omar Group is delighted to announce the launch of an all-new tool designed especially for park customers to make it easier for them to market and sell their Omar Group park homes and lodges.
The ingenious Park Marketing Portal www.omartrade.co.uk went live just before Ardingly Show and has already proven to be a huge success.
More than purely a manufacturer of park home and luxury lodges, Omar Group sets itself apart by being a solutions provider. With a strong brand portfolio that includes Omar Park & Leisure Homes, Wessex Unique Lodges & Park Homes, Omar Park Development Services, Omar Refurbishment Services and UK Sundecks – and with more customers seeking comprehensive solutions – the addition of the Park Marketing Portal has further contributed to the group's offering.
Giving easy access to the tools needed by parks to sell their Omar Group park homes and luxury lodges, the portal is an area where customers can log in and download digital assets. For every park home and lodge in the Omar and Wessex ranges, customers can easily access images, 3D tours, brochures, logos, floorplans and sales posters. The portal also has convenient forms where customers can provide information to go on the Omar and Wessex website 'Park Finder' and 'Park Open Days' features – both of which are very popular.
Another feature of the portal is a useful order form, where customers can order brochures, point-of-sales materials and merchandise. Clara Baillie-Lane, group head of marketing, commented: 'The Park Marketing Portal was designed to provide a comprehensive, user friendly and easy to navigate marketing toolkit for our park customers, giving them the tools they need to help them market and sell our homes.
'Although many of our customers have embraced the portal for it's convenience, there will those who prefer to contact us direct – we will of course continue to provide marketing support in ways that fit with our customers.' To sign up to the Park Marketing Portal visit the portal at
www.omartrade.co.uk, or for more on Omar Group, please visit www.omar.co.uk.