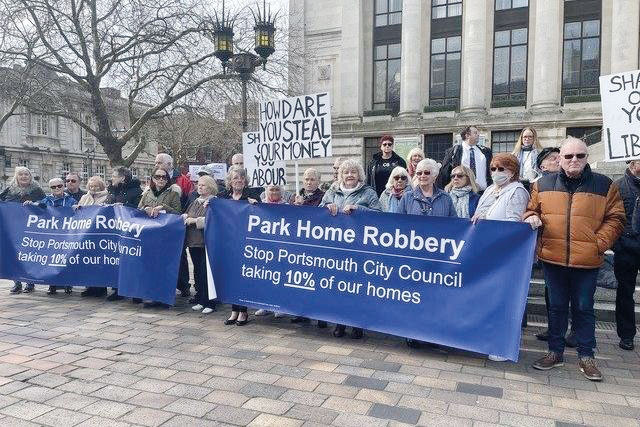 Park home owners at council-owned sites in Portsmouth have reacted angrily to plans to charge ten per cent commission upon the sale of their homes. We learn more…
Park home owners at a brace of Portsmouth City Council-owned parks have called for a new commission on the sale of their properties to be scrapped.
Agreed last month, the charge would see the council take ten per cent of the proceeds of homes sold at Cliffdale Gardens, in Cosham, and Henderson Park, in Eastney.
The commission, which is normal practice on most privately-owned parks, would earn the council £50,000 a year. The commission would only apply to new homes; existing home owners would be exempt.
But the move has angered the owners of the 115 homes who described it as 'daylight robbery' and said, even with the exemption, they would be affected through potential buyers being put off. Dozens gathered outside the council's Guildhall before a full council meeting in March to protest.
Claire Bennett, who is in the process of selling her £175,000 park home so she can move to Spain to care of her ill father, said the council 'was not entitled' to take £17,500 of the proceeds.
'The council has given us nothing but grief,' she said. 'We pay ground rent and get nothing in return and now – without even telling us – they are trying to steal ten per cent of the value of people's homes.
'You would not ask someone selling their home to give you 10 per cent of it. It is disgraceful that this is imposed on us.'
The council previously introduced the charge in 2007 – having had a similar requirement until the mid-90s – before u-turning two years later in the face of widespread opposition and repaying the money it had taken.