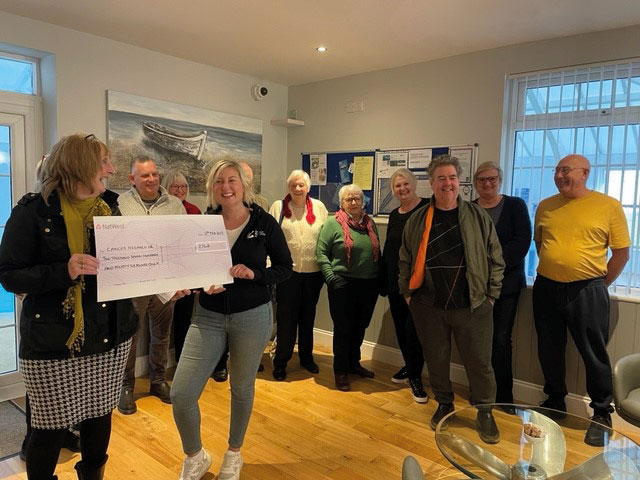 A kind-hearted community in Kent has raised almost £3,000 for Cancer Research UK. We find out more…
Residents at RoyaleLife's Reculver Court, in Herne Bay, have collected £2,746 for their chosen charity, after spending a year taking part in various fundraising activities.
The group of close-knit neighbours form the Reculver Qualified Residents' Association (RQRA), a community group led by chairman, Phil Monk, have each pledged their support for a chosen charity each year.
Phil said: 'Choosing Cancer Research UK as our charity of the year was unanimously voted for by the residents' association. For over 20 years, the charity has strived to raise vital funds and awareness of this cruel disease, and although none of the residents here have lived with cancer themselves, we all know somebody who has been affected by it.'
'Very grateful'
Cancer Research UK fundraising spokesperson for Herne Bay and Kent, Sherrill Hawker, said: 'We are grateful to the RQRA for their dedication to the cause and for their support.
'Cancer Research UK has made enormous progress in the fight against cancer. However, we have only been able to do this thanks to the generosity of our volunteers and supporters without whom we would not be able to fund our vital research.'
One in two people in the UK will be diagnosed with cancer at some stage in their lives, but the good news is more people are surviving the disease now than ever before. Cancer survival in the UK has doubled since the early 1970s and Cancer Research UK's work has been at the heart of that progress.
Today, two in four people survive their cancer for at least 10 years. Cancer Research UK's ambition is to accelerate progress so that by 2034, three in four people will survive their cancer for at least ten years.
Sherrill added: 'Cancer Research UK receives no government funding for its research. Every step we take towards beating cancer relies on every pound donated.'
Fundraising focus
As part of the RQRA's annual charitable commitments, the neighbours each submit suggestions for local and regional charities they'd like picked as a main fundraising focus for the year.
With their sights now set on raising even more money for good causes, the caring group have recently announced Guts UK as their official charity for 2022. Guts UK is a non-profit organisation committed to fighting all digestive disease. It is the only UK charity funding research into the digestive system and aims to increase knowledge about gut, liver and pancreas health.
CEO of RoyaleLife, Robert Bull, said: 'I couldn't be prouder to hear that our residents have raised such vital funds for Cancer Research UK and would like to personally thank Phil and the rest of the Reculver Qualified Residents' Association for their fantastic efforts.'
He added: 'Our developments are built with community at heart, and it's heartwarming to see that our residents are proving themselves to be a fantastic example of this ethos. We look forward to seeing what they have in store with this year's fundraising for Guts UK.'
Secure lifestyle
Reculver Court is RoyaleLife's flagship park home bungalow development for the over 45s and offers secure living with a thriving community atmosphere.
The private, secure, gated development enjoys a range of on-site facilities such as an indoor swimming pool, coffee lounge and tea gardens, and sits just minutes away from Reculver Bay, and has all amenities needed right on its doorstep.
---
Info point
RoyaleLife is one of the UK's largest park home bungalow providers with a heritage dating back to 1945. All the company's luxury detached park home bungalows come fully furnished with their own garden and private parking space. For more information on RoyaleLife visit www.royalelife.com.