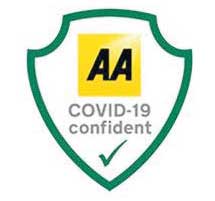 Keen to help people get out and enjoy the hospitality and holiday sector in the post-lockdown period, the AA has launched its 'Covid Confident' scheme. This applies to hotels, restaurants, self-catering accommodation, B&Bs, and campsites, who can register for the assessment scheme and gain accreditation if their establishments meet the necessary standards. The hope is that this will then inspire confidence among customers to return to these establishments.
The full list of AA Covid Confident accredited establishments across the UK can be found on: www.ratedtrips.com.
Simon Numphud, managing director at AA Media, commented: 'At this crucial time for the hospitality industry, as businesses work hard to get back on their feet, the number of registrations to the AA Covid Confident scheme demonstrate our industry's commitment to customer and staff safety. As people start to book holidays and days out, we hope the AA Covid Confident accreditation will support the public in making informed decisions with confidence.'
To be eligible for the AA Covid Confident scheme, establishments can apply via:
www.ratedtrips.com/aa-covid-confident.