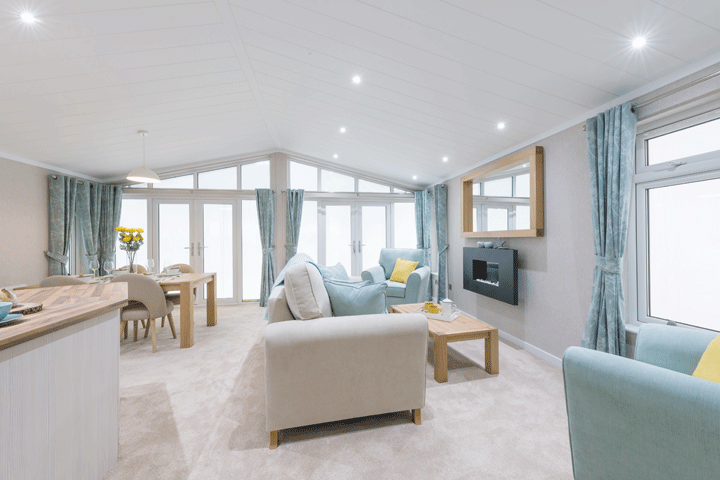 Omar always ensures visitors to the nation's best shows are treated to the best. Here are some highlights from the recent Lawns Show…
Omar returned to The Caravan Extravaganza at The Lawns, in Cottingham, near Hull, in early September to excitement and acclaim from both the showgoing public and the industry.
The heavyweight manufacturer, which has bases in Suffolk as well as Hull, unveiled five luxury lodge models. We take a brief look at them here…
The line-up that dazzled the crowds was made up of:
● the Atrium Monopitch – a striking new addition to the range;
● the Alderney – an all-new lodge with a distinctive roofline;
● the ever-popular 2018 Kingfisher with its full glass façade;
● the new-for-2019 Westfield, a favourite with letting parks and the beautifully formed;
● the luxury single unit Southwold, also new for 2019 and boasting a distinctive roofline.
Run by The Hull and East Riding Caravan Manufacturers' Association (Hercma), The Caravan Extravaganza, more often referred to as The Lawns, provides a first glimpse into the new season's models.
For 2018, the show featured more than 130 new touring caravans and about 150 park homes, lodges and holiday caravans from most of the major British manufacturers.
With a massive accessory shop, a small funfair for children, food stalls and other entertainment it provides a great day out – or weekend away – for the whole family!
For more on Omar's impressive Lawns display, turn to page 50 and read our expert review of proceedings.
For more show information visit: lawnsandbeaulieushows.com, call the Omar team on 01842 810 673, email sales@omar.co.uk or visit omar.co.uk.