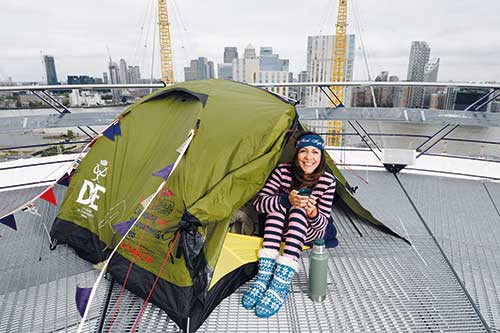 Due to the Coronavirus lockdown, this year the Camping and Caravanning Club rebranded its annual camping week celebration, instead calling it 'The Stay Home National Camping and Caravanning Week'. The event ran at the end of May, with Club members all over the UK taking part.
TV personality Julia Bradbury, who is also President of The Camping and Caravanning Club, launched the event with 'The Friendly Club Camp-out', from a tent in her garden.
The event was a virtual celebration, aimed at encouraging people to find out more about camping, caravanning and motorhoming, for future holidays. Julia Bradbury has taken part in a range of daring activities to launch National Camping and Caravanning Week in previous years, including spending the night in a caravan on the Thames in 2019. She also created the first ever campsite on the famous riverway.
Speaking before the event, Julia enthused, "Given some of the more adventurous launches we've had for National Camping and Caravanning Week in past years, I'm actually looking forward to a more back-to-basics approach. We want to welcome new friends into the camping family, and encourage old ones to dust off tents hidden in the garage, and have a good old camp-out with us."