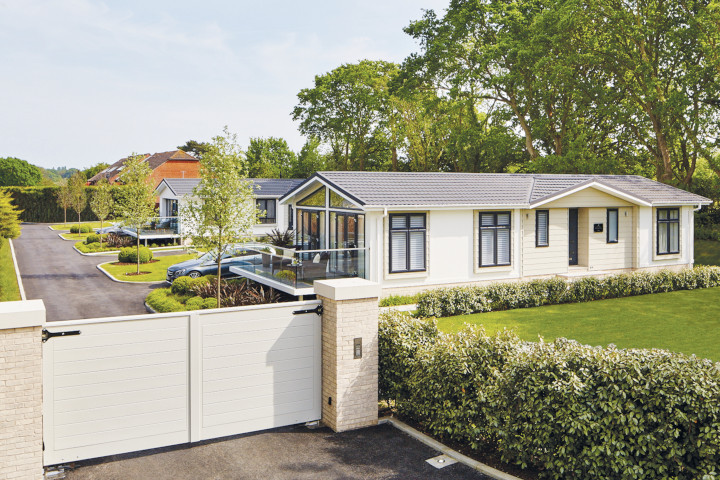 One of the UK's best known park operators is to host another open day at its newest park this June. After the huge success and high level of interest in homes at the April open day at its Hampshire site, Park Royal, the owner Birch's Group is set to throw open its doors once again.
Prospective home buyers are invited to run the rule over a selection of show homes at the Hamble-based site on Saturday 29 June from 10am until 4pm.
Park Royal is a picturesque destination which is ideal for anyone wanting to discover some of Hampshire's best coastline and countryside. With superb riverside views, Hamble village and its quaint cobbled streets offer an alternative shopping and dining experience.
Here's what our expert reviewer, Steve Rowe, said about the park after visiting earlier this year: 'I think this is one of the poshest new park developments I have come across.
'With all the homes being very modern and luxurious, and in the same colour scheme, plus with the electronic entrance gates, it gives the park an upmarket feel, which somehow seems to fit well with the 'yachting set' vibe in this part of the world.
'Having said that, with home prices starting at £250,000, that's pretty good value for this area and, dare I say, might allow you to live the champagne lifestyle for beer money!'
Birch's Group prides itself on providing top quality park homes in des-res locations. Park Royal is the newest addition to the group and very much in the same vein.
Open day visitors can expect to see a wide variety of show homes, while there are also many plots available, ready to take the home of your choice. To give you examples of the show home pricing, a 40ft x 20 Omar Royal, with two bedrooms, was priced at £250,000; a 50ft x 20 Prestige Avanti Special, with two bedrooms, was priced at £325,000 and a luxurious 50ft x 20 Prestige Hamble Residence with two bedrooms and a glass-fronted balcony, was priced at £400,000.
The park is for residents over 45 years of age. No resident children are allowed (visiting children are fine). Up to two dogs and two cats per home are accepted.
Park Royal is at: Satchell Lane, Hamble, Hampshire SO31 4HR.
For more information please visit
www.birchsgroup.co.uk, call 0845 555 4545 or email sales@birchsgroup.co.uk.