The Government has published a briefing paper ahead of a review of the ten per cent commission rate on the sales of park homes in England. Richard Hand, senior adviser at the Leasehold Advisory Service (LEASE), explains more…
The House of Commons Library has published a briefing paper explaining the ten per cent commission a site owner receives on the sale price of a mobile home (see: https://researchbriefings.parliament.uk/ResearchBriefing/Summary/SN07003 for more).
This follows the English Government's recently published response to its review of park homes legislation, which confirmed that it will commission research to enable a detailed assessment of the likely impact of a change to the ten per cent commission charge on residents and site owners. A timetable for the research will be announced in due course.
The paper also provides the history of the various reviews of payment of sales commission.
COMMISSION REQUIREMENT
When an owner of a mobile/park home situated on a site covered by the Mobile Homes Act 1983 (as amended) sells their home, there is a requirement to pay commission on the sale to the site owner.
The maximum rate of commission is prescribed by the law and is currently set at ten per cent of the sale price.
Mobile home owners regard the commission charge as unfair and out of date, while site owners regard it as an important source of income.
Home owners often argue that, as a site owner does nothing to earn this commission, they do not see why s/he should receive it. They feel this wrong is compounded when home owners have increased the value of the home by adding porches, brick skirts, etc. at their own expense.
---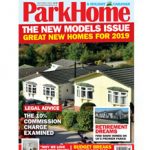 Read the full story in the New Models 2019 issue of Park Home & Holiday Caravan