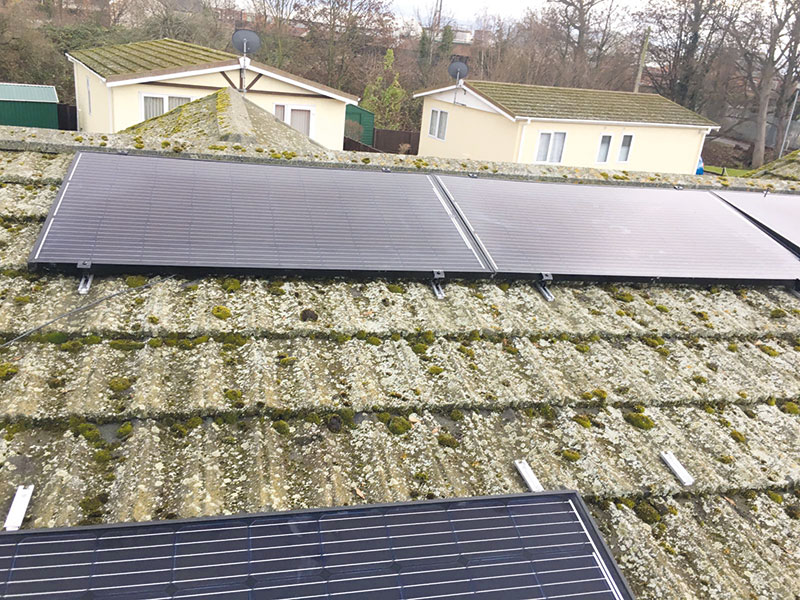 Park Home Energy is an innovative pioneer in the development of renewable technologies specific to mobile homes. We find out more…
The company offers three main services: external wall insulation, park home-specific solar panels and LPG boilers.
Its aesthetically pleasing specialist external wall insulation will help you keep warm during the colder months, reducing energy bills and enhancing the look and value of your home (as our pictures show). But it's not just a decorative addition, Park Home Energy's specialist insulation can also increase the longevity and lifespan on your unit.
First approach
It is almost always cheaper to insulate than generate so Park Home Energy's first approach when looking at a park home is to look at the existing levels of insulation. The installation of its external wall insulation has the effect of reducing your gas use by up to 65 per cent, also saving on the amount of carbon dioxide created when you burn LPG.
Park Home Energy can also explore the possibility of insulating your underfloor and your roof space.
LPG boilers over seven or eight years old can start to be less efficient, meaning they start to use more gas to heat your home than a new energy-efficient boiler would. Park Home Energy's LPG boilers come with user-friendly controls, allowing you to accurately adjust your heating and hot water for greater comfort. There is also a five-year parts and labour guarantee included, free of charge, on Park Home Energy's high-efficiency LPG combi boilers.
Eco-friendly
With the company's Park Home Solar system, savings can be achieved cost effectively with the installation of solar panels on your park home's roof. By doing so, you will also be caring for the planet, cutting your carbon footprint and electricity bills.
The installation of solar panels on your park home's roof are connected to a battery system providing up to 90 per cent of the electrical demand of your home, day or night, so you can look forward to some impressive savings.
Park Home Energy also offers uPVC windows and doors for park homes. The range of doors are individually manufactured to market-leading specifications and come with a 15-year guarantee.
Designed and developed in one of the most advanced extrusion facilities in Europe, the windows are unique and are a superior-performance PVCu profile system and product range.
Experience tells
The Stoke on Trent-based outfit boast more than 20 years' experience in the industry, from the development of insulation measures, to the works it is involved in today. Park Home Energy has a long-standing reputation for excellent service and reliability. One happy customer, Emma Newman, said: 'I'm delighted with the service I received from Park Home Energy. The company provided perfect service and great communication from start to finish. I would not hesitate to recommend this firm to other park home owners.'
By embracing Park Home Energy's approach to park home maintenance, you will go a long way towards reducing your living costs and creating a warmer, healthier and more cost effective home for a long time to come.
INFO POINT
Park Home Energy is at:
Unit 5F Blythe Business Park, Creswell, Stoke on Trent ST11 9RD
For more information on the company, please contact:
T: 01782 953719
M: 07824 367117
E: contact@parkhomeenergy.co.uk
W: www.parkhomeenergy.co.uk