You may not think too much about the underside of your park home, but neglecting this crucial area could prove to be a costly mistake, as industry expert Bankside Patterson explains…
Would you buy a house if you were unsure about the foundations on which it was built? For most, the answer would most certainly be 'no'. The same consideration should be given when purchasing a residential park home.
The chassis may not be at the top of everybody's checklist, but it should at least feature somewhere. They are an integral part of this type of property, which couldn't be built or relocated without them.
The leading chassis manufacturer for this sector, Bankside Patterson, prides itself on helping purchasers make an informed decision about this often overlooked part of the structure – so that they can enjoy carefree home ownership with peace of mind.
The company's key priority is to continue its education of manufacturers, dealers and owners about the differences between chassis types and, in real terms, what that means from a maintenance and warranty perspective.
Not everyone knows that they can ask questions about their chassis and request an upgrade to a fully galvanised option, which may pay dividends later, but many manufacturers will support that, so it's a key question to ask.
FIND OUT MORE
For more information about Bankside Patterson, please visit www.galvanisedchassics.co.uk or call 01964 545 454.
---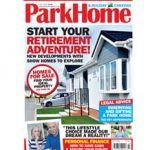 For the full story please see the July 2018 issue.