James Sumner, associate director at Warfield Park, in Berkshire, and Tom Rumble, of Woolf Bond Planning, explain more about this important issue…
Park homes are both alike and different to traditional brick and block houses. They are alike as park homes are modern, bungalow-style detached homes. Occupiers enjoy all the usual amenities, such as garages, sheds and patios, as well as paying council tax. But they are certainly different in terms of planning. They are different in three main ways: in terms of the local plan process, the planning system itself and the approach to Permitted Development (PD) rights. Although purchasers of park homes need to be aware of the first two, it is the final one, PD rights, which could most affect the occupier.
Local plans
Every planning authority must produce a local plan. This identifies and allocates land for development to meet local housing and other needs. The plan looks forward 15 years and uses a nationally set methodology including housing and affordability data from the Office for National Statistics (ONS) to determine what the housing need will be over that period. The local plan process typically starts with a 'call for sites', where landowners put forward their land for consideration. These sites are then assessed for their sustainability and deliverability, and the sites which fit the criteria and will deliver the housing need over the period, are allocated and included within the plan.
Park homes, although counting towards meeting the housing need, are rarely included within local plans. This is despite their popularity and meeting specialist housing needs for older people. Park homes can offer an opportunity for independent edge of settlement or even rural living.
The development at Warfield Park, one of the largest park home sites in the country, is a good example: it is outside the settlement boundary of Bracknell and technically located in the designated countryside.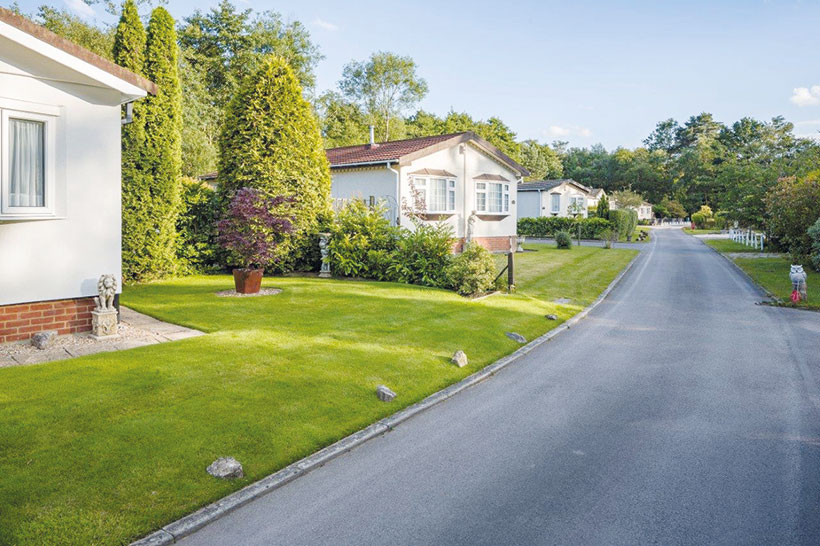 Planning and licensing process
When a park home is purchased, it is sited on a pitch within a private park under a license, called a "Written Statement". Obtaining planning consent to create a park home site is the responsibility of the site owner. They submit a planning application to the local planning authority, the local council.
Although the council will consider this in the same way as any other planning application, it is normally an application for a change of use of that land for the siting of park homes and any associated development or engineering operations. Although it is different in nature to a traditional housing development proposal, such an application does have to conform to planning policies in terms of access, parking, open space, transport, healthcare and so on.
Permitted Development Rights
How a park home is handled in planning terms is also different when purchasers take up occupation. With traditional brick and block homes, the purchaser usually acquires some householder PD rights which means certain addition and modifications can be made to the property without needing planning consent. These can include patios, garden sheds, gazebos, porches and porticos, and in some circumstances, garages, conservatories and loft conversions.
With park homes, purchasers do not have these PD rights. Park home occupiers always have to seek the consent of the park owner to undertake such developments but will likely also need to seek planning consent from the council. Although the site operator will be able to provide advice, it is always a good idea to check with the planning department at the council or an appropriately qualified planning professional.
Common examples of development that would require planning consent (taken from Bracknell Forest Council as an example) include:
 any extension to an existing mobile home, including porches
 outbuildings, including summer houses and garden sheds of any size
 other miscellaneous garden structures including pergolas and garden parasols fixed to the ground
 children's play equipment that is fixed to the ground
 hardstanding, including driveways, patio areas and the laying of gravel
 decking and access steps of any size
 siting of fixed containers, such as for gas storage
Failure to obtain planning consent may result in action being taken against the occupier to remove the offending items.
Most applications to extend a park home will be refused where it takes the combined resulting structure out of the definition of a caravan, as defined by the Caravans Site Act 1968 (as amended). It defines a caravan as a structure designed or adapted for human habitation which:
 is composed of not more than two sections separately constructed and designed to be assembled on a site by means of bolts, clamps or other devices; and,
 is, when assembled, physically capable of being moved by road from one place to another (whether by being towed, or by being transported on a motor vehicle or trailer)
The overall combined structure cannot exceed 6.8 metres in width and 20 metres in length. The overall height of living accommodation (measured internally from the floor at the lowest level to the ceiling at the highest level) cannot exceed 3.48 metres.
Two sections
Many existing park homes are already twin units (comprised of two sections bolted together). Applications to extend can involve creating a structure consisting of three or more sections and will likely therefore be refused due to no longer being a caravan. Warfield Park are considering potential innovative options to facilitate a set of basic development rights through powers originally granted in the 2011 Localism Act. These planning tools have been rarely used by the planning community at this stage, but may offer a solution.
Park homes hold a particular place in planning which has both advantages and disadvantages. The advantages certainly outweigh the disadvantages as park homes are a popular option – Warfield Park is a good example where there are long waiting lists to both purchase and rent.
---
info point
Warfield Park is set in some 90 acres of parkland. It is one of the largest parks of its kind in the UK with just over 500 homes, the majority privately-owned. For more information on the park, please visit www.warfieldpark.co.uk.