Parks are great places to make a connection with the natural world. The pleasure of this unique way of life is enhanced when enjoyed with your grandchildren. From such a great base, we find out how you can take your relationship to the next level…
Nowadays, it is all too common to see children hunched over a phone or tablet, or staring at a television screen for hours on end.
But the days of alternative entertainment are not over: there are plenty of ways to keep the grandchildren occupied without relying on technology.
Spending quality time with them can offer the parents a well-earned, and much-needed, rest while giving you a chance to bond with them. It can sometimes be difficult to think of things to do together that are enjoyable on both sides, and that won't put too much physical strain on those who perhaps aren't as spritely as they used to be!
This month, in association with the Barton Group, we suggest activities that are not only fun but will help to create precious, lasting memories with the grandchildren.
Stretch your legs
A family walk is a fantastic way of stretching your legs, breathing in fresh air and spending quality time together without breaking the bank! Many residential and holiday parks are surrounded by countryside, offering the chance to roam without the dangers of traffic and in safe spaces where children's interest in nature can be thoroughly stimulated.
Looking further afield, the National Trust and Wildlife Trust websites have plenty of suggestions for walks suitable for all ages in the family, offering wildlife, parkland and natural play areas to keep everybody entertained.
Inviting the children to choose the direction they wish to walk in, where to stop and how long to go for helps them to grow in confidence and encourages them to take an interest in their environment.
Walking with your grandchildren can also be a relaxing time to talk, listen, share and improve your comfort level with one another. Barton Park's Glenholt Park offers breathtaking views of the Plym Valley countryside and is within easy reach of the beautiful Dartmoor National Park. With rolling moorland and deep river valleys, the National Park has a lot to offer, including a 'funzone' dedicated to organising events and activities catering for children. Prepare a picnic full of everybody's favourite food and you're sure to have a great day out together!
Going old school
Digging out the old photo albums and home movies may sound unappealing, but for many children the chance to look at old photographs and videos of their parents, aunties, uncles, cousins, and even relatives they never knew can be a welcome activity.
This is a chance for them to feel connected to their family history and possibly laugh at fashion trends of the past – 'Granny, what were you thinking?'
---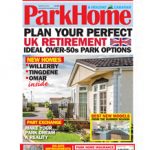 Read the full article in the August 2019 issue of Park Home & Holiday Caravan