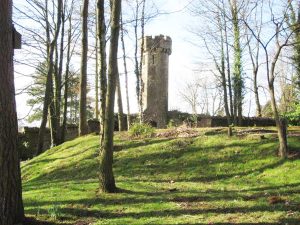 Saltmarshe Castle Caravan Park is located in Herefordshire and surrounded by glorious countryside in view of the Malvern Hills. Such a spectacular location is hard to compete with but the park is also very close to Worcester, Malvern and Hereford. The West Midlands and the M5 motorway are within easy reach too. Saltmarshe has been owned by the same family for 25 years.
Only a two mile drive from the park the local historical town of Bromyard, which hosts local food and drink festivals and countryside galas is well worth a visit. Bromyard is also famous for its annual folk festival with international artists performing: having all the essential amenities including a doctor's surgery, supermarkets, banks, a post office, dental practices and local shops and pubs. Getting around is no bother either with regular and reliable bus services and local taxi firms in operation. There is also a choice of several golf courses within a few miles from the park.
Developed within the grounds of the former Saltmarshe Castle, the castle walls and towers still remain as well as some of the original courtyard and outbuildings.
At the park, individual plots are full of character and all boast full mains services. There are a mixture of holiday homes and park homes throughout the park and the site has an 11-month season.
The park has fully automated security gates at main entrance and most of the park is covered by CCTV to protect your home, whether occupied or not.
On site facilities include a licensed club and restaurant, wi-fi, a snooker room, a private fishing lake, children's play areas and a launderette. The park is also dog -friendly with more than 15 acres of fields and woodland for pets (and their owners) to explore!