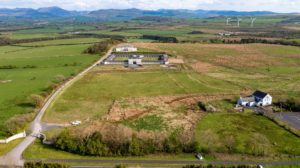 Bella Brodie explores this striking new destination ahead of its launch
After reporting last month that work was getting underway at Lillyhall I couldn't resist checking it out recently.  It sounded a bit too good not to look at, and we were very glad we did!
We stayed in the stables adjacent to the park just ahead of the groundworks starting, so that gave me the perfect opportunity to find out what potential lodge owners here would be able to enjoy both on this specific spot and nearby.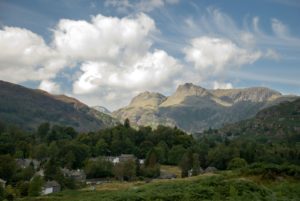 Like many other families, the Lakes are a regular target for us, and we've been dozens of times and walked a good bit of it over the years. Yet as we drove in towards Lilyhall and Workington we were treated to the most magnificent views of the big-hitting, rugged Western mountain ranges and it felt like we were seeing this splendid panorama for the first time.
Driving through the gates were both stunned by the views as it didn't simply feel like we'd arrived at the park location; it felt like we'd arrived at the best viewpoint in the journey too.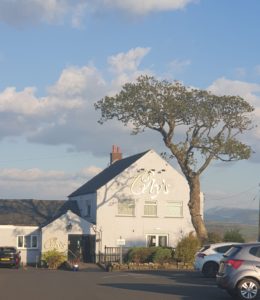 Our first stop after unpacking was to head off to Oily's for our evening meal; a restaurant we could walk to easily from the park as it's set at the end of the drive. Many, many years ago one of the landlords used to sell paraffin oil from one of the pub's outbuildings on-site, earning the pub the name 'Oily Johnnies', so the name is a bit of a nod to that history and local legend.  The food and drink passed our approval threshold with flying colours, and we enjoyed their hearty, home-cooked food, washing it down with a local beer or two, brewed just a few miles away. Although there are plenty of restaurants nearby catering for all tastes, this will be pretty handy for lodge owners to have on their doorstep if they don't fancy driving.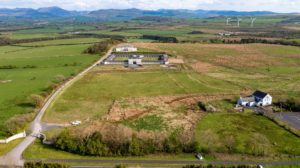 We then set to work sorting out our priorities in terms of daytime activities. What's absolutely brilliant about this location is that you really do have the best of the lakes and coastline all within easy reach, with mountains and water everywhere. That combination is mesmerising, and as we were planning our days out we really started to see how very different every day could be and that it would take weeks or more to get around everything we wanted to do – perfect, then, for lodge ownership!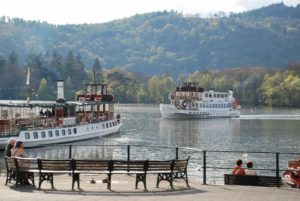 All the best-known hotspots are easily accessible, such as Keswick, Ullswater, Bowness, Ambleside and Windermere. However, some of the quieter, equally beautiful fells, lakes and quaint yet lesser-known gems of little pubs with great walks on their doorstep are even closer such as Buttermere, Bassenthwaite and Ennerdale and they have just as much appeal, especially if you are keen to get away from the crowds.
We particularly enjoyed a Sunday lunch at the Kirkstile Inn just twenty minutes away from our base – it's a gem we'd never been to before, but it's nestled within some spectacular hills with a stream below and oozing with atmosphere.  A short walk at Crummock Water afterwards with the dogs was just the ticket and made for a completely blissful day out.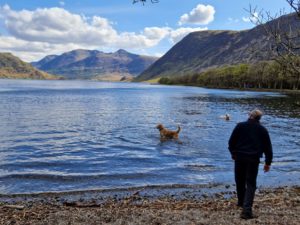 Next on our itinerary was spending time at the historic harbour towns of Maryland and Whitehaven to soak up the coastal atmosphere; both worthy of regular visits with several attractions to explore.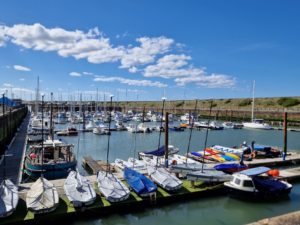 We ended a day spent checking these out by taking a fresh fish and chip supper back to Lillyhall. They also both offer moorings for those with their own boats and have facilities for a variety of water sports enthusiasts, so whether you prefer walking, cycling, watersports or exploring local history, there'll be something all family members to enjoy nearby.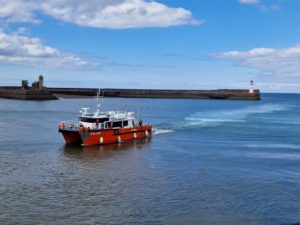 Heading into Windermere on our last day, we took a steamer cruise from Bowness, but of course you could hire a smaller boat out from the jetty there too, and had we had a few more days would have had a good potter around Ambleside for a shopping day, Grasmere to pick up some of their lovely gingerbread or explored some of the literary connections such as the Beatrix Potter visitor attractions or followed the trail of William Wordsworth's inspirational home locations.
We had a brilliant time during our stay here and we will definitely be back as we think this area is a spectacular spot to enjoy both the lakes and the coast from. There was so much more we wanted to do, yet we could also imagine ourselves sitting in a lodge here with those panoramic views, chilling out and doing very little.  Whoever secures a lodge here is going to be very lucky indeed, and we can't help but predict that they are all going to be snapped up as soon as they are released in such a prime spot!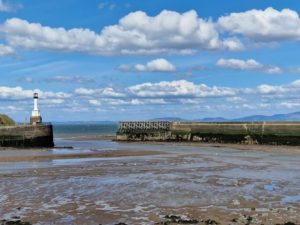 NEED TO KNOW
Lillyhall Luxury Lodge Retreat is the latest in Actually Group's portfolio of luxury lodge ownership locations and it's due to open later this year, although expressions of interest are already being received, unsurprisingly! Set within an exclusive, gated community and open for 12 months of the year, lodges here will be luxurious, high-end sustainable models designed to make the most of the external space, which is perfect for a location such as this.  They will have stunning views towards the mountains with outdoor living zones and hot-tubs, and it's hard to imagine a more picturesque setting to unwind in. The first phase will comprise of 16 lodges priced from £349,000, set around a central water feature.   The offering here has been thoughtfully curated for those seeking their own high-end home-away-from-home or investors looking for an exclusive destination with next-generation lodge designs that can be accessible at any time of year, maximising the potential for a high yield.
FOR FURTHER INFORMATION
E: info@actuallygroup.co.uk
T: 0333 772 1113
W: www.actuallygroup.co.uk