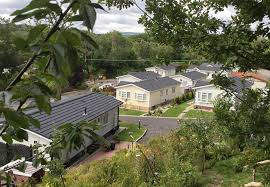 Hidden in Chorley just 7 miles from Bridgnorth in Shropshire, lies Homelands Park. A semi-retirement/ retirement park home estat exclusively for the over 50's. Homelands Park has been in the Home family for decades and has been transformed having recently undergone extensive redevelopment.
Homelands Park has been in the Home family for over 50 years.
In 2008 Bryan with sisters Shirley and Julie, managed to secure planning to redevelop the park with permission to site 80 residential park homes. Major investment and redevelopment has taken place, and the park has been transformed with the welcome arrival of new homes and a new community of retired and semi retired residents over 50 years old.
Family members live adjacent to the site, providing managerial responsibilities and assistance, which offers extra security and reassurance to this beautiful and desirable residential Park.
We are members of the BH&HPA who represent and serve those who own or manage holiday, residential, tenting and touring parks. The Association is committed to lobbying and representing BH&HPA members' interests to government and policymakers at all levels.