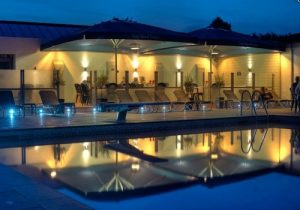 We are a 5 star holiday caravan park situated in the village of Monkton, near Ramsgate on the beautiful Kent coast. We are only a short drive from the coast, which boasts miles of golden sandy beaches.
As soon as you are through the park entrance, you will appreciated the attention which has been afforded to a family owned and run park for over 30 years. The park has been beautifully developed with some quite outstanding features with European influences.
Enjoy breakfast, lunch, dinner or just a simple snack in the lovely Bistro that opens on to the pool terrace. Or enjoy a social occasion in Le Club Bar, where you can watch the latest sporting event, enjoy a Mocktail, glass of wine or a pint.
Come visit our water garden – the ponds, statues and palm trees transport you to a place far form the everyday stresses of life.
And not forgetting the children – Foxy's Kids area will keep the kids entertained with activities for all ages. They can also enjoy a milkshake and a cookie in their very own little café.