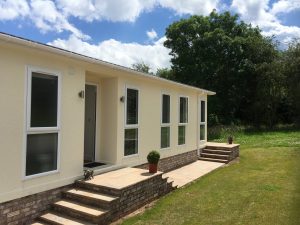 Broadwell Woods Park is an exclusive residential development that offers some of the very best park homes in the entire Warwickshire region. Set in fantastic rural countryside just 2 miles from the town of Kenilworth, our gated park is open to retired and semi retired people over the age of 50. All park homes are fully fitted and furnished and come with double glazing, central heating and a small plot of land. If you wish to change your lifestyle and live in fabulous countryside surroundings while you pursue your own interest come and talk to us.
Our park has a friendly traditional village feel and the surrounding area comprises the towns of Kenilworth and Warwick, the cities of Birmingham and Coventry and transportation links to destinations throughout the UK and the world. Our homes carry a 10 year warranty for your peace of mind, and are fully equipped with all mod-cons.
Broadwell Woods has 32 homes on site each up to 50 feet in length that have been designed specifically for over 50's. The carpeted homes have enough outside space for a garden or patio area and parking for one car. Residents are permitted to live on the park all year round so long as it is their main residence.