We take a look at what's recently been released and what's new for 2022, and there's lots to get excited about…
This year has been a slightly peculiar year for new model releases, with few events to show them off at. Manufacturers have had a range of challenges to contend with, so it's fair to say that a few of them have reverted to focusing on their core range and service, while others have been able to carry on with their development almost as normal. Most have been impacted one way or another though, so while we've taken a look at recent releases here, the good news is that there are actually quite a few more to come in the next few months, as models that might normally have been launched in September are still in development and due out in the next month or so, providing us with a steady stream to explore each month.
There's still been plenty to report on already though, and we've loved orbiting the marketplace for this overview of the best recent releases to hit the park and leisure home marketplace, and to trail those about to be released for your delectation. Naturally, we'll be reporting on those in upcoming issues.
EMERGING TRENDS
In terms of trends, this year the main rule seems to be that 'anything goes', visually, as long as it fits regulatory build standards and fulfils the purpose intended, and manufacturer and park creativity is in full flow. That makes for an exciting design mix with a few more surprises undoubtedly in store for 2022. A couple of notable patterns seem to have emerged though – as supply chain challenges have been an issue, manufacturers have streamlined some of their designs. There's also been an increasing emphasis on making the most of the outdoor spaces around park and holiday homes, so the partnerships between the manufacturers and parks is proving more important than ever in
---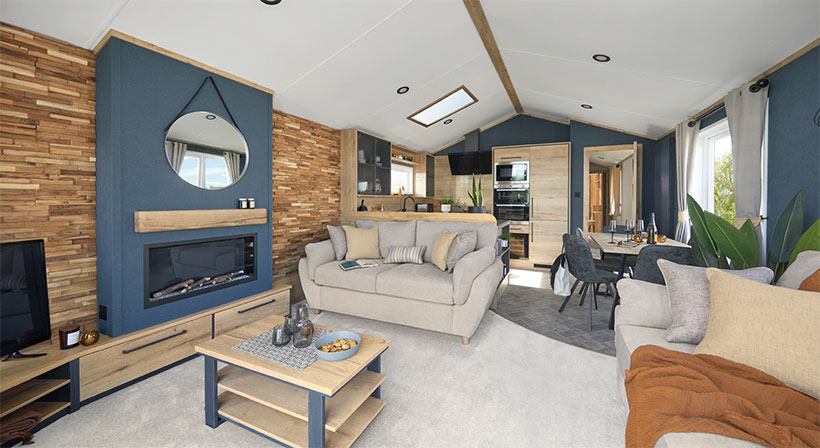 ABI
ABI has launched three new holiday homes for the 2022 season. The Keswick is a brand new model aimed at families with eight different layouts to choose from. We think this could be a great, accessibly priced target model with good all-round appeal. Then there's the new Ingleton; an open-plan family model with breakfast bar and the option to upgrade to BS: 3632 residential specification. The lodge that really catches our eye from this year's new releases is ABI's Westwood lodge though, as the interior design is so striking and luxurious. This model really summarises the edgy side of current trends beautifully and should do really well as it has plenty of 'wow factor'.
---
ASPIRE PARK AND LEISURE HOMES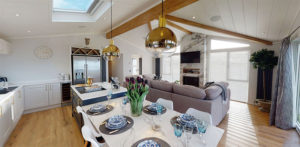 Aspire has two new lodges coming out: the Santorini just as we were going to press on this issue and the Catalonia, which is due out in July 2022. Our sneak preview shows that both are truly exciting lodges that are well worth looking forward to. The Santorini, in typical Aspire style, turns lodge design on its head, or rather side, with a lounge facing to one side and wraparound seating that actually allows the occupant to take in the views to the front elevation too from the lounge seating. A kitchen with island units and adjacent dining table also looks out to the front of the lodge. This is clearly a stunning model designed for the best plots on parks where views can be exploited on both sides. We can't wait to find out where the first Santorini is sited to see just how it sits in the park environment.
With influences drawn from this modern and vibrant region of Spain, the Catalonia is stylish and designed to be versatile, and it looks just as innovative as the Santorini. A striking dividing wall, with shelving on entrance, serves the dual purpose of providing privacy and incorporating shelving. Another key visual feature of this model is a pillar with wine-rack built-in, which defines the space while allowing natural flow of movement around it.
We love the interior design theme here, which would be hard to mistake with any other manufacturer – it is so 'totally Aspire', yet still as fresh as every new model the pioneering company releases.
---
ATLAS
Atlas has an extensive range and the company has added to it for 2022 in the form of the Sahara, Jasmine lodge and Oakwood lodge. There's lots of space to chill out on the L-shaped seating in the Oakwood and, whichever floorplan you choose, the large, light and airy open plan lounge, kitchen and diner has a refreshing layout and uplifting feel.
There are some great features here: we love the cheery yellows in the soft furnishings, the clever shelving to the dining area and floating media and drawer unit. The kitchen island unit offers useful additional surface space and storage and, in the master bedroom, a sliding mirrored door offers access to a large en suite shower room. The re-imagined Jasmine lodge takes pride of place in the Atlas range, with light wood panelling, a feature wall in the lounge and sleek kitchen/diner that feels huge in holiday home terms.
There's an ingenious option of French doors to the master bedroom, offering the possibility of complete wraparound decking on the right plot, with park approval. This really could be a lodge that offers that bit more than most, from and outdoor perspective as well as indoors.
---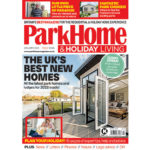 Read the 11 page special in the January 2022 issue of Park Home & Holiday Living