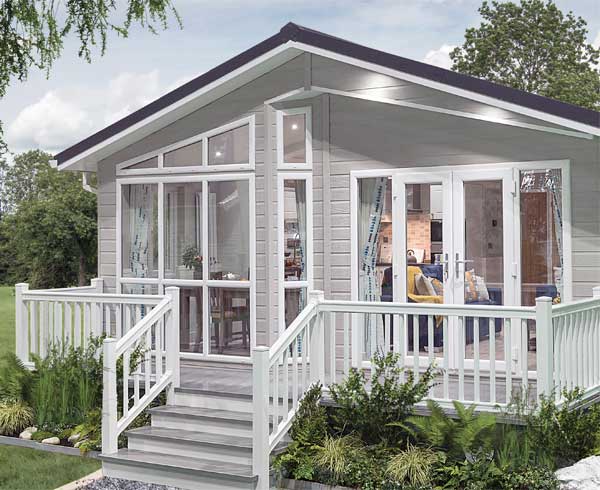 Bella Brodie discovers how Wessex has added a fresh zest to its luxury lodge range with the newly updated Summerhouse
Wessex Unique Lodges is a brand well established as one of the market leaders on design, and its interior designs and layouts continue to go from strength to strength.
In terms of lodges to fall in love with, Wessex definitely knows how to build them with real wow factor, and the Summerhouse is a classic demonstration of its flair, so brace yourself as once you've walked in you might not want to look any further!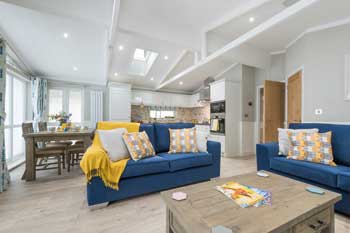 Bright and cheery
A bright and cheery summer retreat with a free and easy vibe, the Summerhouse is the perfect lodge to chill out in all-year round. It also has a bit of a beachy feel, so would be extra special in a coastal location, although any family member who loves the water would probably adore the Summerhouse!
White paneled, semi-vaulted ceilings and partially paneled walls continue the fresh, beachy feel inside and feature beams to the living space add character and depth.
It's not just the style, quality and feel of this lodge that make it special though, as you would expect from Wessex, you'll find there are a few unique features in store in the Summerhouse. If you're looking for a luxury lodge that will see guests coming back time and time again, this may just be the lodge you've been looking for!
An instantly popular luxury lodge after its first outing in 2015, the Summerhouse has now been refreshed for 2018, with a fresh and zesty interior twist keeping it bang on trend. The original brief was a lodge which encompassed true holiday spirit and carefree days, and that's still very much the case here, using a mix of beachy blues, sandy hues and adding some sparky sunny yellows. The layout boasts a stunning master bedroom with feature panel and bath behind, and further luxurious en suite shower room. There'd be no fighting over the bathroom in this lodge, with three options to choose from if you factor in the family bathroom.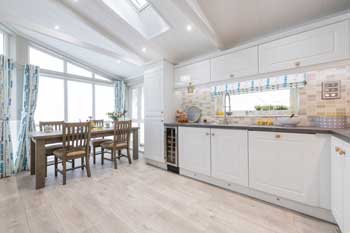 External features
The Summerhouse here is shown in Mist Grey CanExel though naturally it's available in a range of other colours and claddings. The exterior is cool in more ways than one though, making it the perfect choice for a coastal location although it would look pretty anywhere.
Interior features
The 40ft x 20 model shown here has an open-plan living area, two bedrooms and a family bathroom. In an innovative new arrangement it also has a separate bath area in the master bedroom and en-suite shower room beyond. White paneled, semi-vaulted ceilings and half-height paneled walls inside help ensure that this lodge has a lofty feel throughout. Feature beams to the living space add character and depth, giving the lodge a solid feel cosy enough to tempt all year round. The combination of crisp cool whites and nautical blues offset with simple contemporary reclaimed pine furnishings creates a wonderful relaxing feel. As you would expect from Wessex they've ensured that there's a quality feel and finish throughout.
---
CHECKLIST
Key Features
● White panelled semi-vaulted ceilings, feature beams and half panelled walls.
● Lounge area with a feature panelled wall housing a contemporary wall- mounted fire with pebbles.
● Luxuriously equipped kitchen.
● Master en suite with bath open through from the bedroom behind
the feature wall.
● Further en suite shower room to master bedroom.
● Three bedroomed option and ample storage throughout.
---
INFO POINT
Pleszko House, London Road,
Brandon, Suffolk IP27 ONE
(for sat nav use IP27 OLX)
T: 0845 257 0400
E: sales@wessexparkhomes.co.uk
W: www.wessexparkhomes.co.uk
---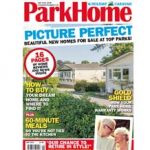 Read the full story in the May 2018 issue of Park Home & Holiday. Caravan