Bella Brodie finds out more about an award-winning model from Omar that continues to impress
When you buy a home from one of the UK's leading manufacturers like Omar, you know design and build excellence is guaranteed. With the latest incarnation of the Heritage, Omar's top-ofthe- range model, which has been beautifully refreshed for 2018, that's never been truer.
This is a home with a great heritage of its own, having won Park Home of the Year in 2014 – an early insight to the impact this home was going to make in the marketplace. It continues to perform well to this day. All of the best bits have been retained in the latest refresh – indeed, there have only been a few minor tweaks to ensure this model remains just as popular, yet completely up-to-date, too. This is undoubtedly a home to aspire to with quality as a priority throughout, showcased via a distinctive exterior and a lavish interior.

Accommodation and layout
The minimum size for the Heritage is a 48ft x 20, and the maximum 65ft x 22, with two and three bedroom options available. The accommodation includes a large entrance hall, a spacious kitchen/diner and separate utility room, large lounge spanning the width
of the home, family bathroom, study and a minimum of two bedrooms. The master has an en suite shower room and further dressing room beyond. The model shown here is a 50ft x 22, which was recently on display at The World of Park and Leisure Homes Show.
External features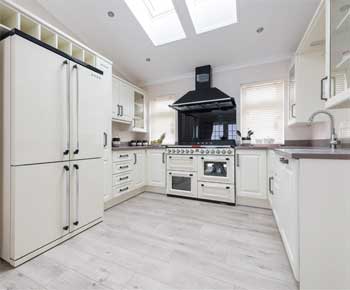 The exterior features a superb extended front dormer supported by fluted pillars, dressed with graphite Canexel herringbone detail, all giving it a feeling of grandeur. With the Heritage, you know you've arrived – either as a visitor or resident! There are patio doors to the dining room to the left of the main entrance, lending the home to a raised terraced area outside, and the main entrance has feature glazing within and further feature panels either side. Beautiful Georgian bay windows with cornice detail above add to the visual appeal, as do the pretty stone effect corner quoins and full fluted columns.
---
KEY FEATURES
● Luxurious country-style kitchen/utility.
● Grand lounge with plush furniture set.
● Study.
● Contemporary freestanding bathroom furnishings.
● Master suite with wet room and dressing area.
Info point
Omar Park & Leisure Homes
Pleszko House, London Road, Brandon,
Suffolk IP27 ONE
T: 01842 810 673
E: sales@omar.co.uk
W: www.omar.co.uk
---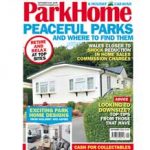 Read the full story in the September 2018 issue of Park Home & Holiday Caravan