Following Tingdene's Visitor Centre relaunch, we take a look at one of the company's brand-new models on display there – and undoubtedly the star of the show – the Harrington. Bella Brodie reports…
Described as its first 'true hybrid', designed to cross both residential and leisure home genres, the Harrington would stand proud in any park environment, and we think it could be a real talking point in the marketplace this year.
ALL-ROUND APPEAL
With a Nordic feel and open-plan interior, it was an instant hit at Tingdene's Visitor Centre relaunch and could be set to sell well thanks to its keen price point. Basically, it feels like high-end luxury, but at a very accessible price. An open-plan layout combines light and space with character and personality, making this a model to really fall in love with. Large windows to the lounge and dining area let plenty of light in, and the Scandinavian design and colour scheme in greys, taupes and light whites makes it feel cosy yet contemporary. As with all Tingdene models, it can be personalised at the design stage with a choice of kitchen, furnishings and external options.
ACCOMMODATION AND LAYOUT
The Harrington is available in two and three bedroomed options and is fully vaulted throughout, another reason why it feels so light, airy and spacious. We're reviewing the 40ft x 20 two bedroomed open plan version here with an open plan living area incorporating the lounge, kitchen and diner, which, although open plan are all clearly defined areas. We were actually pretty astonished that this is a 40ft x 20 footprint as it feels much, much larger inside – it's a bit of a Tardis!
There's another 40ft x 20 option with a separate kitchen if you prefer, delivered through a full-height dividing wall between the kitchen and dining area, although that loses the breakfast bar which we particularly liked. There's a walk-in dressing area/wardrobe partition to the master bedroom, with an en suite shower room beyond. The second bedroom is displayed with twin beds, and is served by a separate family bathroom.
In the 46ft x 20 three-bedroomed version there's an additional single bedroom, and a separate office opposite, which could no doubt be a utility room if you prefer. A 36ft x 20 is also available, with the same layout as the open planned 46ft x 20.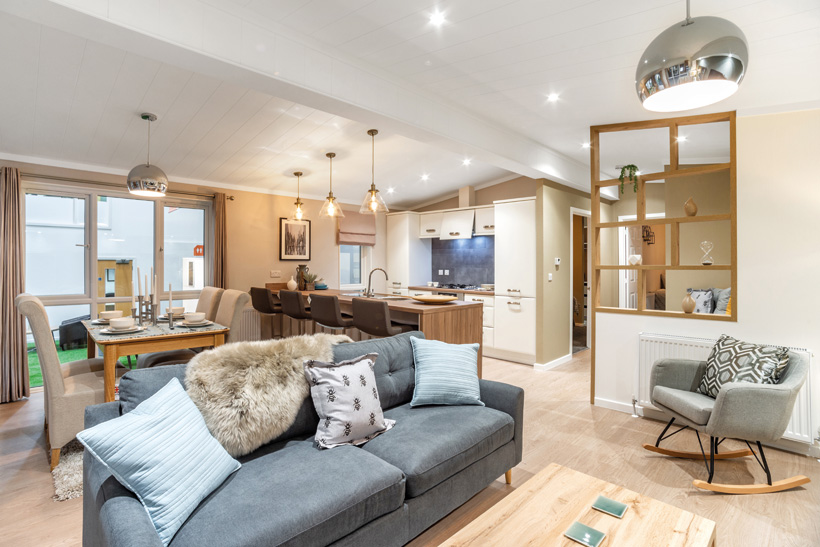 EXTERNAL SPECIFICATION
The Harrington has a sleek exterior, shown here with render external finish and cladding features. A range of different external finish options are available including full cladding for leisure models, of course. It's a great external look, and with its extended overhang to the front and built-in spotlights would look fabulous at night, too.
LIVING AREA
The two entrances to the Harrington are via French doors to the dining area, or the entrance area to the side. This is wonderfully light and bright, thanks to the integrated, staggered shelving frame through to the lounge area, and a single-panelled glass door.
The walkways are nice and wide too, so there are no tight corners to navigate. Just inside the door is a storage unit which in itself is well planned out – a top shelf for hats perhaps, the rail for jackets, and drawers below for handbags, shopping bags, cameras and items you might need to grab in a hurry before rushing out.
Next to that is a large boot seat which could double up as general seating anyway, perhaps to chat to whoever is in the kitchen or slightly separate from the lounge – a holidaying teenager comes to mind here for leisure use, or perhaps it might become a visiting grandchild's favourite spot in a residential setting! Under that is a storage area for footwear, so with those shoes off and not likely to mess up the flooring this could work well as a fleet model or hire lodge, too!
---
Checklist
Key Features
● Inviting and practical entrance area
● Striking feature wall to lounge
● Large breakfast bar and good dining capacity
● Stunning master bedroom suite
● Second bedroom has equal appeal
Info point
Tingdene Homes Ltd is at:
Bradfield Road,
Finedon Road Industrial Estate,
Wellingborough, Northants NN8 4HB
Visitor Centre opening times:
Monday to Thursday (9am to 5pm)
Friday to Saturday (9am to 4pm)
Open on bank holidays, 9am to 4pm
T: 01933 230 130
E: sales@tingdene.co.uk
W: www.tingdene.co.uk
---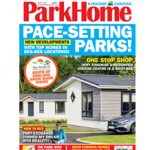 Read the full story in the April 2019 issue of Park Home & Holiday Caravan