Bella Brodie finds out how Aspire's fearless approach to design has paid off in one of its latest launches…
Aspire Homes are well known for their big hitting lodges, high build quality, and for leading on new trends rather than following them. They even recently won an award for Best Holiday Home Design Firm in Europe, a clear testament to their capability.
The Bohemia is one of their latest launches and it undoubtedly offers a fresh approach to lodge design, with a fearlessly bold and confident interior which is superbly eye-catching. The concept for the lodge is clear. Haute Bohemian has become a style recognised for its laissez-faire approach to interiors, where less is less and more is more, and every component has significance.
The Bohemia lodge is a celebration of diversity and a collection of all the greatness found in the human spirit, which is no doubt why there's a real feeling of freedom and flair within. A globally inspired home, it forms a beautifully subtle homage to the well-travelled and well-lived lodge owner and a wonderfully cosy place to stay.
Sizes for this stunning luxury lodge start from 42ft x 20 ft with two bedrooms or more. The model shown here is built for a 45ft x 22 base and is two-bedroomed, and the three-bedroomed layout is available to view on their website.
EXTERNAL APPOINTMENT
The Bohemia has a mono-pitch roof, so the main living areas look out to one side. Oversized windows and doors from the living areas are sheltered by stunning overhanging exterior facade, delicately braced by striking Douglas fir timbers with wall washer lights set between. A variety of cladding types is available.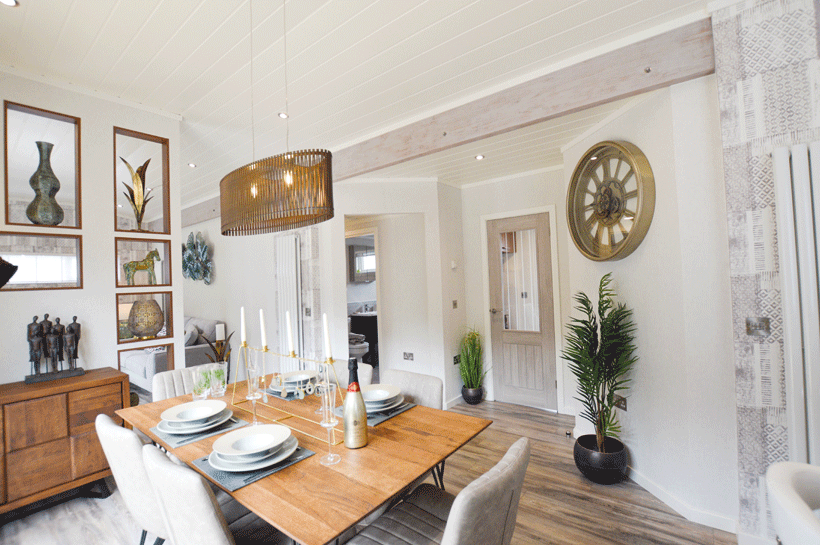 INTERNAL SPECIFICATION
From the outset the Bohemia impresses, striking the perfect balance throughout in terms of luxury while not over-cluttering. Vaulted living areas offer a great feeling of space, while feature designer radiators are fitted as standard, adding further to the sleek design feel. Dark oak furniture adds depth of colour and texture, and everything just seems to have the perfect place in the Bohemia. Natural colours and textures form the theme, and grey washed laminate flooring or luxurious deep pile carpet offer a practical yet luxurious feel underfoot. There are further touches of luxury such as low-level LED lighting to the plinths in the kitchen.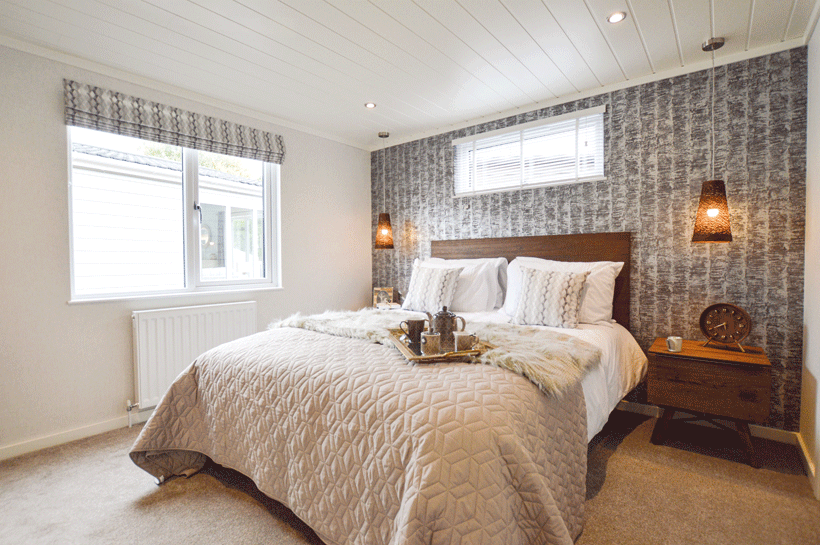 ---
Aspire Park & Leisure Homes is at: Snowdon House, Snowdon Street, Porthmadog,
Gwynedd LL49 9PQ
T: 01766 800 200
E: info@aspireleisurehomes.co.uk
W: www.aspireleisurehomes.co.uk
---
Read the full story and find more new homes in the January 2020 issue of Park Home & Holiday Caravan