Bella Brodie reports on a much-loved favourite with residential home buyers
Working out what you're looking for in a residential park home can sometimes be a bit overwhelming with so many wonderful options available to choose from. So, if you're not sure what you want but know that it'll feel right the minute you see it, then the Anthem is a model which we've seen quite a few folks fall in love with, instantly.
There's a good reason for that as although it's beautiful throughout, the main entrance hall lead into a large and airy kitchen diner with instant 'wow' factor. This zone feels like the heart of the home straight away, with a slightly quirky, memorable layout, and casual feel which makes you want to instantly relax.
Another striking aspect of the Anthem is its ability to shape-shift slightly in feel, from an open plan home into one of separate living spaces. That makes it a truly adaptable home; the sort you could have gatherings in with family and friends very easily, yet when you're on your own it will still feel cosy.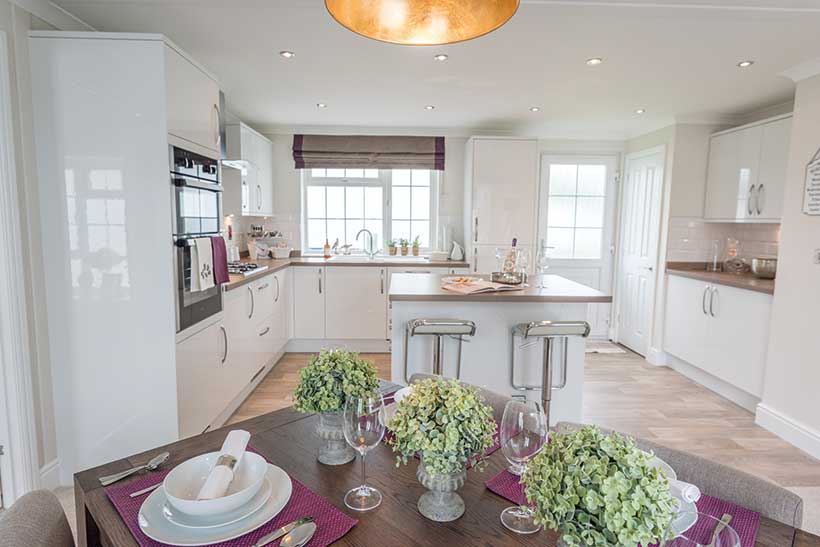 ACCOMMODATION
The Anthem is configured with two bedrooms as standard, in lengths of 42' 46' and 60' all in 20' and 22' widths. A study is available in selected layouts, and you can 'bespoke your own' up to a maximum size of 65' x 22'.
EXTERNAL APPOINTMENT
This is a home with serious kerb appeal. Box bay windows with Georgian bars and curved, tiled bay hoods are framed above by symmetrical roof apexes, so although all this adds perfect elegance it's executed so seamlessly that it's easy to miss the attention to fine detail which has created it.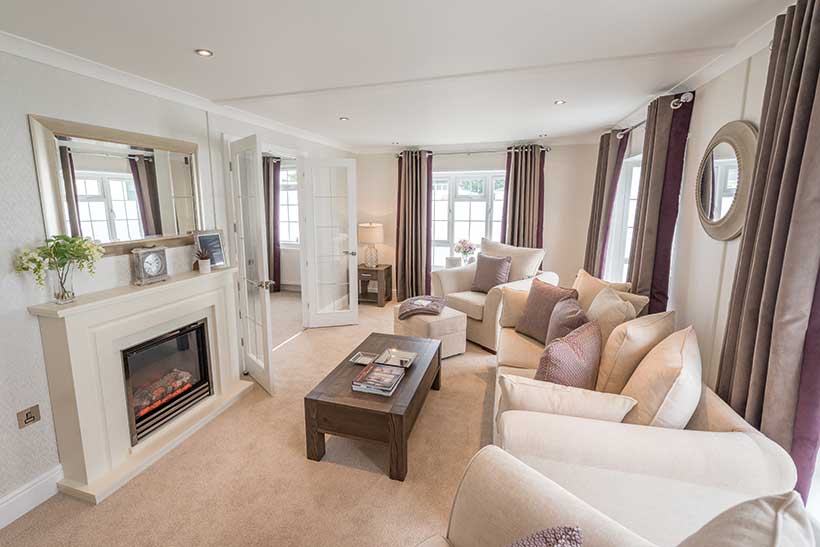 INTERNAL APPOINTMENT
There's a feeling of space and light as soon as you walk into this home. It benefits from a separate entrance hall and a high-end feel from the outset. From here, you step into the kitchen and dining area, which has bountiful windows and characterful angular positioning of the dining table. Throughout the home luscious purples, creams and mulberry tones combine with walnut furnishings to deliver an air of tasteful opulence. The tone is classy and sophisticated.
CHECKLIST
Key Features
● Four Georgian style bay windows
● Georgian panelled doors through to lounge
● Well-equipped, fitted kitchen with central island
● Walk through wardrobes to en-suite shower room
● Stylish office (selected floorplans)
---
INFO POINT
Prestige Park and Leisure Homes is at:
Shipton Way, Express Business Park,
Rushden NN10 6GL
T: 01933 354000
E: sales@phplh.com
w: prestigeparkandleisurehomes.co.uk
---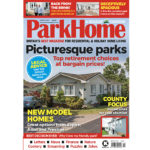 Read the full report in the March 2021 issue of Park Home & Holiday Caravan