We take a look at one of Omar's inviting luxury residential park home models, the Sandringham. Bella Brodie reports
Followers of Omar will know that the Sandringham is a much-loved residential park home and one of the mainstays of the Suffolk-based company's range. With a real touch of regal class to it, the Sandringham offers a traditional layout, tried and tested to work well, and an ultimately elegant exterior.
It has recently received a refreshing new interior uplift to bring it right up-to-date without losing any of the original charms that have made it so popular.
This beautiful, light and traditional park home is now set to continue as a firm favourite in the range, particularly if you love to see the outdoors from the comfort of your park home.
Much-loved retreat
The Sandringham takes its inspiration from the Sandringham in Norfolk, the much-loved country retreat of the Queen, and the private home of four generations of British monarchs since 1862.
King George V famously said of it: 'Dear old Sandringham, the place I love better than anywhere in the world.'
It's said to be the royals' favourite residence, boasting a friendly and informal atmosphere with a relaxed, countryside feel, as well as plenty of stunning vistas to enjoy.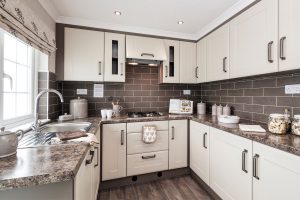 That description is particularly apt when you consider its park home namesake. Of course, most parks can't compete with the 24-acres of stunning gardens that Sandringham House benefits from but, in terms of a relaxed, timeless and classy retreat, the Sandringham park home certainly draws respect and admiration in a manner befitting its name.
External features
Large curved bay windows with a Georgian bar sit elegantly either side of the feature front door, set below a large central roof dormer with cladding detail – an updated feature in the latest version.  Feature full-height, glazed panels and lintel and pilasters then frame the front door itself.
Full-height windows and French doors extend out in a bow front to the side of the home, and a further box bay window, all with Georgian bar, finished with feature corner qoins then complete the look to a very high standard.
Even from the outside, the Sandringham has an elegant feel.
Checklist
Size and layout  
The 36ft x 20 Sandringham is a well-balanced home any owner would be proud of.  The 40ft x 20 as shown has a slightly larger footprint which allows for a walk-in wardrobe in the second bedroom and a larger entrance hall. There's also a 45ft x 20 version which has a very spacious entrance hall, walk-in wardrobe and two further rooms in the form of a study and useful utility room, so whatever the plot size you need to work to, you'll find there should be a model to match.
Sandringham features
•    Stylish high-quality feel throughout.
•    Two double bedrooms each with special features.
•    Georgian windows and large bay to front elevation.
•    Ultra-stylish, well-equipped kitchen.
•    Spacious design with several options to choose from.
Info Point

Omar Park & Leisure Homes is at:
London Road, Brandon,
Suffolk, IP27 ONE
Tel:  01842 810 673
Email: sales@omar.co.uk
www.omar.co.uk
For more information call the Omar team on 01842 810 673, email sales@omar.co.uk or visit www.omar.co.uk to enjoy a virtual tour of the Sandringham to see this lovely home for yourself.
Read The Full Article In The May 2017 Issue Of Park Homes & Holiday Caravan
Subscribe and back issues available here