Bella Brodie finds out more about the first offering in Aspire's tailor-made residential park home range
Aspire Park and Leisure Homes have introduced some truly stunning leisure homes over the past year, with class, style and architectural brilliance all tripping off the tongue as sound descriptions of their work.
The World of Park and Leisure Homes Show will mark another step forward for them in extending their offering further, with a residential home set to impress. Visually, it will be under wraps until the show, but we are thrilled that we can give you a little taste of what to expect from this classy, ground-breaking manufacturer. They really are ones to watch this year, so head to their stand to see it come to life in reality, or watch our up-coming issues where we will be reporting back to tell you more after the show.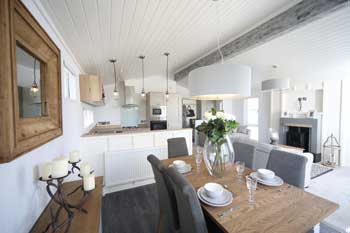 The Willowdale
The first offering in their range of tailor-made residential homes delivers true class and comfort. An appealing exterior with a projecting, staggered roof, covered porch and accented box bay windows, draws you into to a classically well-thought-out layout.
This two-bedroom home maximises every inch of space within the 42'x20' footprint. The soothing grey and white palette, coupled with modern oak furniture create a warm welcome in every room. There is a fantastic utility room with a sink, washer-dryer and a Worcester-Bosch combi-boiler as well as ample storage cupboards.
The tiled bathroom and en-suite feature a large shower in the en suite and a modern bath with shower mixer and screen in the bathroom. A gorgeous wall hung mirrored cabinet and wall hung drawer vanity under, set a contemporary tone. These features are coupled with clever recessed tall storage cupboards in both rooms to keep all those bathroom essentials neat, tidy and stowed away.
INFO POINT
Aspire Park and Leisure Homes can be found on stand M14 at the Stoneleigh Show. You can contact the company at:
Aspire Park & Leisure Homes, Snowdon House, Snowdon Street, Porthmadog,
Gwynedd LL49 9PQ
T: 01766 800 200
E: info@aspireleisurehomes.co.uk
W: www.aspireleisurehomes.co.uk
---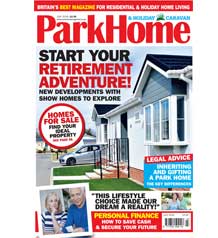 Read the full story in the July 2018 issue of Park Home & Holiday Caravan